Kevin Fischer is a veteran broadcaster, the recipient of over 150 major journalism awards from the Milwaukee Press Club, the Wisconsin Associated Press, the Northwest Broadcast News Association, the Wisconsin Bar Association, and others. He has been seen and heard on Milwaukee TV and radio stations for over three decades. A longtime aide to state Senate Republicans in the Wisconsin Legislature, Kevin can be seen offering his views on the news on the public affairs program, "InterCHANGE," on Milwaukee Public Television Channel 10, and heard filling in on Newstalk 1130 WISN. He lives with his wife, Jennifer, and their lovely young daughter, Kyla Audrey, in Franklin.
THERE ARE THOUSANDS AND THOUSANDS OF
FOOD BLOGS, BUT ONLY ONE CULINARY NO-
NO!





Planning on hosting or attending a Super Bowl party?

Here's a previous Culinary no-no from January of 2014 that's worth repeating.






Pope Francis waves to faithful from his pope-mobile as he arrives for his weekly general audience in St. Peter's Square at the Vatican, Wednesday, Jan. 22, 2014. (AP Photo/Alessandra Tarantino)
I've always wanted to somehow incorporate the Pope into a Culinary no-no. Granted, this will be somewhat of a stretch, but here goes.

Did you hear what the Pontiff had to say in a statement last week?

"The Internet…This is something truly good, a gift from God."

No, Pope Francis wasn't talking about cuisine. His commendation for the Internet was its ability to create encounters for people and bring them into solidarity.

He's right, however, in a general sense. The World Wide Web provides vast information and enjoyment, answers to all kinds of questions. And that includes countless ideas on what and what not to do on the biggest party day of the year.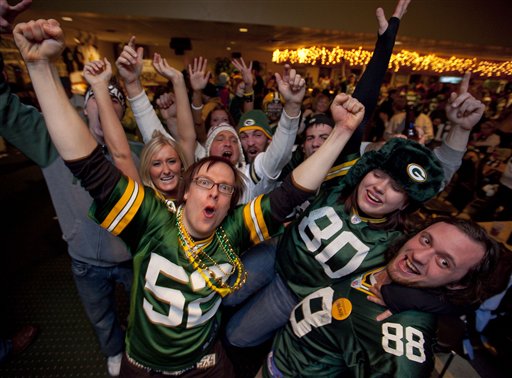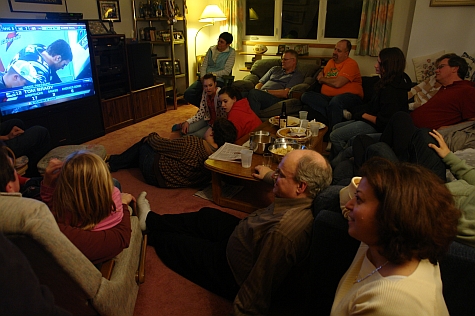 Needless to say, that would be your Super Bowl Sunday.






Consult the Internet as I did and you can easily be bombarded with recipes and advice on the perfect or ultimate Super Bowl party fare. Some say do this while others say don't do that. Let's examine some ideas I found followed by my thoughts in Bronco orange and Seahawk blue.
We used to think that Super Bowl Sunday was a day that had no rules -- an all-out food free-for-all. It's a day to celebrate excess, dip chicken wings into dip, make sandwiches out of pizza, order subs longer than your body and wash it all down with beer. But it turns out there are a few things not to bring/serve.
Of course!

Chips are a requirement. Kale is exactly the opposite.
Keep kale out.

Peanuts, pretzels, and chips are practically mandatory on game day.
Bingo.

Serve a Variety of Salsa. One person's "Mild" is another's "Holy Crap That's Hot!"
Great advice. Chili is another wildly popular Super Bowl dish. But how to prepare? How about a mild version with a few bottles of various hot sauces on the side for guests to choose.
Tiny, fancy foods are for other parties. This party is for big, messy, overblown foods. Smoked salmon toasts need not apply.
Again, I concur. I've never been to a Super Bowl party yet where hot hors d'oeuvres were passed around by a woman in black and white uniform. But if I ever would attend such an affair, I'd want her to find me, often.
A Super Bowl party is an occasion for beer. Whiskey. Rum and Coke, if you must. Gin and tonic if it's absolutely necessary. Mojitos? GET OUT OF HERE.
The writer of the above failed to mention an old fashioned. Wonder what reaction that would bring. Personally, I think a nicely stocked bar full of many cocktail options is a nice option.

Fake meat. Look, be a vegetarian, but this is the one day you can't make the rest of us eat this stuff.
Can I hear an AMEN!

Mimosas. Have we not made it clear that this is a beer day? In fact, no wine.
Wine and all its popularity is a must, reds and whites.

Beer may be synonymous with football (we blame the beer ads that play during every commercial break), but it isn't everyone's first choice. Make orange-ginger margaritas or passion fruit mojitos by the pitcher and be sure to have a few bottles of red wine on hand.
See what I'm talkin' about.

Offset the comfort foods with a veggie platter. You'll be surprised how many hands reach for carrot and celery sticks.
With all the fussin' over the main items, this can easily be forgotten. Don't.

When the news hit the blogs that 1.77 million pounds of Velveeta cheese was recalled -- not because it was bad, but because the packaging failed to mention that the product contained soy, putting everyone with a soy allergy at risk -- the "hot take" that all of the bloggers reporting the story mentioned was the fact that everyone's Super Bowl parties were going to be ruined. There was a big "cheese shortage" in America now, after all. "How can you throw a legitimate party without having access to the Velveeta cheesy goodness?" was the popular angle. An angle which, frankly, doesn't make any sense: A great Super Bowl party is not the one with the ubiquitous globular rubbery processed clumpy cheese block.
Two thumbs up.

Veggies don't go over too well at Super Bowl parties unless they're (a) deep-fried; (b) covered in ranch dressing; (c) dunked in melted cheese; or (d) all of the above. So, make a point to reserve at least half of your plate for some greens. Not only will you fail to get the post-game lethargy from the mid-game carb-loading, you'll also get a nice feeling of superiority.
50% of my plate for veggies? Are you crazy?

There's a fine line between festive and tacky. Steer clear of football-shaped cakes, streamers in the team colors, and turning the table into a miniature football field.
Wrong! Isn't that all part of the frenzy?

Get some … flags, helmets, bobble headed dolls, jerseys, footballs. Break out that silly sombrero chip and dip bowl, paper napkins in team colors. However you want to focus your decoration, make it fun, go crazy and make it football.
Now that's a party atmosphere!

The list of possibilities is endless if you click on that gift from God. But one expert I looked into doesn't make any of the above suggestions.





If someone wants to host a Super Bowl party what would you recommend they serve?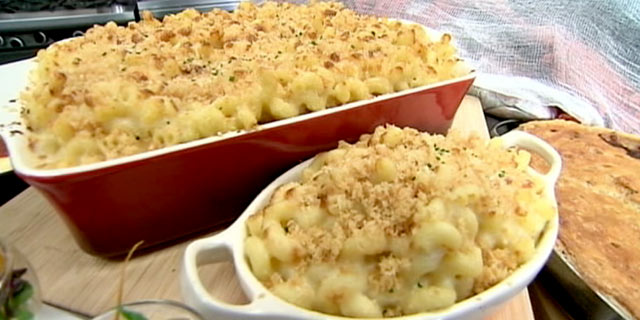 "I would make a buffet table -- a great meatloaf, slice it and have a mushroom sauce with it. Mac and cheese, which is really easy to do, a romaine salad, maybe some roasted vegetables. If you have the money it's easy to make roasted pork or beef rack, which you can slice. Also mashed potatoes are always easy to do."
Wolfgang Puck who has catered for the Oscar and Grammy parties.

Plenty of Culinary no-no's, for sure, but they are far outnumbered by the delicious ways to plan and pull off a terrific Super Bowl party.

I conclude with the biggest Super Bowl XLVIII Culinary no-no, not even close.


Articles used for this week's no-no:

11 foods that don't belong anywhere near a Super Bowl party

Super Bowl party do's and don'ts

5 rules for a classy Super Bowl party

Do's and don't for hosts and guests



CULINARY NO-NO BONUSES

It's on the menu, but restaurants don't expect you to order

Something was missing