Kevin Fischer is a veteran broadcaster, the recipient of over 150 major journalism awards from the Milwaukee Press Club, the Wisconsin Associated Press, the Northwest Broadcast News Association, the Wisconsin Bar Association, and others. He has been seen and heard on Milwaukee TV and radio stations for over three decades. A longtime aide to state Senate Republicans in the Wisconsin Legislature, Kevin can be seen offering his views on the news on the public affairs program, "InterCHANGE," on Milwaukee Public Television Channel 10, and heard filling in on Newstalk 1130 WISN. He lives with his wife, Jennifer, and their lovely young daughter, Kyla Audrey, in Franklin.



I just love Polish food.

Oh yes.

And why not.

It's sooooooooo good.

You've got your pierogis....




And your stuffed cabbage rolls....






And potato pancakes...







Can't forget.....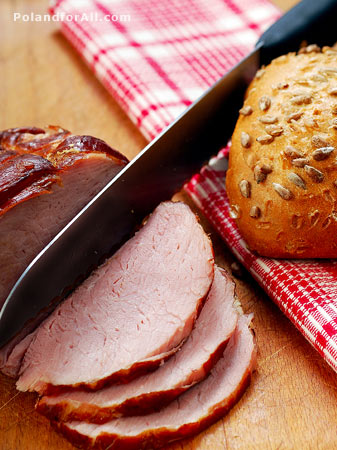 And kolacki....





Polish sausage is terrific.

Fresh Polish sausage at Easter time.

Smoked Polish with my eggs on Sunday at Meyer's Restaurant.

And on the grill, Polish sausage on a nice brat bun with a good, hearty, brown mustard, onions, and sauerkraut.








Ummmm.

Kev.

Oh, Kevinnnnn.

Say….

Where is the no-no?

I'M GETTING' TO IT!

JUST HANG ON!

I'M GETTING' TO IT!!






I used to watch the Travel Channel more often before the quality of its programming began to suffer. Now, I only occasionally tune in as I did recently when it aired the Cleveland edition of "Man v. Food."

One of the stops was a popular place called Hot Sauce Williams that features a soul food menu.




Now at this point, I feel the need to bring in a great philosopher I have quoted in the past on Culinary no-no...







In one "Happy Days" episode Arthur Fonzarelli told his adoring buddies that ice cream and ketchup when they're apart…….







But when you put them together....

Not so...........cool.

At Hot Sauce Williams and throughout Cleveland, a sandwich creation, "The Polish Boy" has become quite the rage. Now if you think a Polish Boy is.....





You'd be wrong.

ONE POLISH BOY!

COMING UP!!

You take your sausage bun and you steam it.

Then you lay some kielbasa in there.

And you pour some barbecue sauce on top.

Next, you plop on some crispy french fries.

That's right. French fries.

Say, Kev. When do we get to the sauerkraut?

We don't.

We don't?

We don't.

For the next level, you dollop some creamy cole slaw all across the bun.

Sometimes the coleslaw goes on before the fries. In that case, the barbecue sauce is then ladled onto the fries.

And now you've got yourself a POLISH BOY.

One blogger described THE POLISH BOY as "horribly messy."

AYY FONZZZZZZZIE!





Above two photos: LTHForum.com and alwayshungryny.com.

I am telling you straight. Having grown up with many Polish kids and their families who knew serious eating, there's no doubt in my mind that those Polish kitchens NEVER would slop this together, call it a POLISH BOY, and throw it on the dinner table.

I believe Anthony Bourdain got it right. Watch this brief video where you see the POLISH BOY about :48 in.








Seriously, Bourdain had the right idea. Like Bourdain, I'd visit Hot Sauce Williams in Cleveland.

And I'd order the other items that actually do look scrumptious and mouth-watering.





But I would skip the POLISH BOY......a complete destruction and waste of a Polish sausage.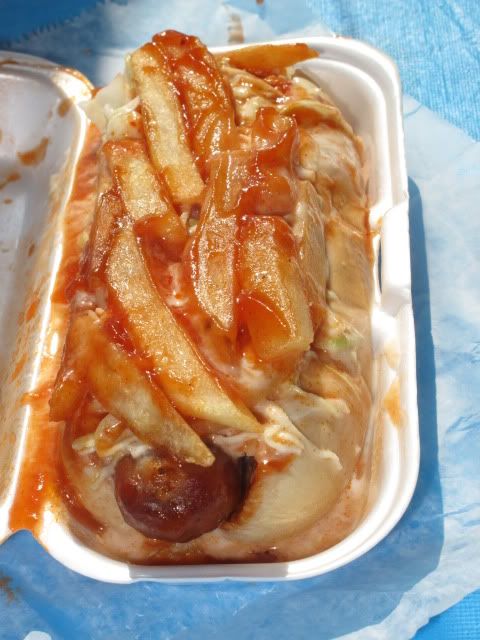 Cleveland, you can have it.


CULINARY NO-NO BONUS

Edible clothes. One item might look good at the Wisconsin State Fair. Take a look.


ANOTHER CULINARY NO-NO BONUS

10 things your waiter won't tell you.




This site uses Facebook comments to make it easier for you to contribute. If you see a comment you would like to flag for spam or abuse, click the "x" in the upper right of it. By posting, you agree to our Terms of Use.