Kevin Fischer is a veteran broadcaster, the recipient of over 150 major journalism awards from the Milwaukee Press Club, the Wisconsin Associated Press, the Northwest Broadcast News Association, the Wisconsin Bar Association, and others. He has been seen and heard on Milwaukee TV and radio stations for over three decades. A longtime aide to state Senate Republicans in the Wisconsin Legislature, Kevin can be seen offering his views on the news on the public affairs program, "InterCHANGE," on Milwaukee Public Television Channel 10, and heard filling in on Newstalk 1130 WISN. He lives with his wife, Jennifer, and their lovely young daughter, Kyla Audrey, in Franklin.

Suppose you're at McDonald's and debating what to order.

How about chicken, the southern style sandwich?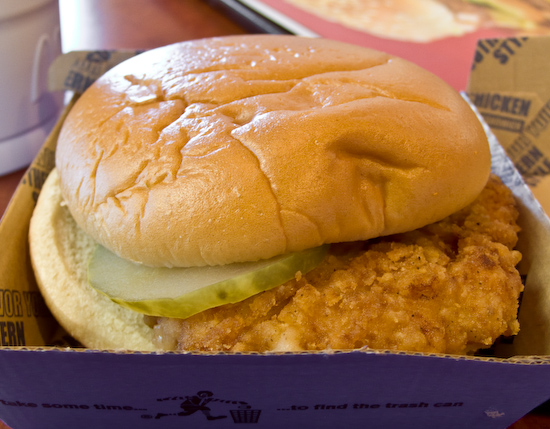 Ahhh, but those new Angus beef burgers sure look tasty....




Upon closer review of the nutritional information listed for each menu item, you see that the burgers range in calories from 750-790 while the chicken sandwich has only 400. Would that affect your decision?

Probably not.

One of the worst kept secrets in politics today is that the Left wants to control just about every aspect of your life. That includes what you eat and how much you eat. To that end, in their infinite wisdom, lefties have decided that if you're overweight, it's not because you're downright lazy, don't exercise, and spend too much time in front of the TV or computer. No, silly fat one! You're not to blame! It's never your fault! Holy Triple Whopper! It's those nasty people at restaurants that serve fried stuff with salt on it, by golly!

These lefty know-it-alls firmly believe the only way to stop your girth from reaching out of control proportions is for the government to, of course, step in and help you. Their solution is to force evil corporations that dare to sell Happy Meals to divulge the true number of calories that are lurking inside those deadly fruit and yogurt parfaits.

Government to the rescue! We bequeath that from this day forward, chain restaurants will hereby place on their menus the calorie count for each item. Consumers will easily see this disgusting numerical rundown and will automatically choose not to eat the food selections we deem to be unhealthy. Obesity will go on a diet, people will be healthier and happier, and the world will be such a cool place once again. Why? Because we say so.

Previous Culinary no-no's have focused on parts of the country that have implemented calorie mandates on restaurants, including California where the Governator is supposedly a Republican but has latched onto this government intrusion concept.

Do they work? There's a saying that information is power. Armed with the valuable resource that a double quarter pounder has more than twice the calories of a filet-o-fish, health-conscious eaters will opt for the filet-o-fish, right?

Wrong.

The latest information is that even with the knowledge that Big Macs are more artery-hardening than a grilled chicken sandwich, it has little if any effect on the eating habits of chain restaurant-goers when deciding what to order for themselves.

Their kids? That's a different story. Their own orders? Calories, schmalories.

Here are more details from the LA Times.

Yet another well-intentioned liberal brainstorm. Yet another solution that doesn't work.


CULINARY NO-NO BONUS #1

Maybe it's not so good to eat healthy.


CULINARY NO-NO BONUS #2

In last week's no-no, I chastised some Italians for being too uppity about the McItaly Burger. This pedestrian slop was apparently beneath the high-quality cuisine the country is noted for.

Oh really.

Read this.


CULINARY NO-NO BONUS #3

Wine snobs don't know everything.
This site uses Facebook comments to make it easier for you to contribute. If you see a comment you would like to flag for spam or abuse, click the "x" in the upper right of it. By posting, you agree to our Terms of Use.