Kevin Fischer is a veteran broadcaster, the recipient of over 150 major journalism awards from the Milwaukee Press Club, the Wisconsin Associated Press, the Northwest Broadcast News Association, the Wisconsin Bar Association, and others. He has been seen and heard on Milwaukee TV and radio stations for over three decades. A longtime aide to state Senate Republicans in the Wisconsin Legislature, Kevin can be seen offering his views on the news on the public affairs program, "InterCHANGE," on Milwaukee Public Television Channel 10, and heard filling in on Newstalk 1130 WISN. He lives with his wife, Jennifer, and their lovely young daughter, Kyla Audrey, in Franklin.


March 12, 2008: New York Gov. Eliot Spitzer announces his resignation as his wife Silda looks on at his Manhattan offices. Spitzer resigned in disgrace after getting caught in a call-girl scandal that shattered his corruption-fighting, straight-arrow image, saying: "I cannot allow my private failings to disrupt the people's work."







July 16, 2007: With his wife standing by his side, Sen. David Vitter apologizes for his past actions in the wake of the "D.C. Madam" scandal. Sen. Vitter held his own press conference and admitted that yes, in the business sense, he knew a staff member of "D.C. Madam" Deborah Jeane Palfrey. Mrs. Vitter found herself eating her own words from 2000. When she criticized Hillary Clinton for not divorcing Bill Clinton over the Monica Lewinsky sex scandal, she cited the case of a woman who cut off her husband's penis."I'm a lot more like Lorena Bobbitt than Hillary," she said. "If he does something like that, I'm walking away with one thing, and it's not alimony, trust me." Photo: CBS News







Aug. 12, 2004: N.J. Gov. James McGreevey appeared with his wife to announce that he's gay, he's had an adulterous affair with a man and he's resigning. Photo: MSNBC.com.






Idaho Sen. Larry Craig addresses the media during the summer of 2007 in downtown Boise with his wife, Suzanne, about his arrest and guilty plea for disorderly conduct in a Minnesota airport . Craig was arrested during a sting operation targeting alleged sexual activity in a men's restroom. Joe Jaszewski / The Idaho Statesman







Sen. Larry Craig answered questions with his wife, Suzanne, at their home. The Craigs listened to a tape of a man who says is certain he had a brief sexual encounter with Craig at Union Station. Craig told the Statesman the man's story isn't true, and he denied two other accusations as well. "The gay movement, we know it for what it is," he said. "It's now aggressive, and it's liberal, and it's naming people to try to put them in compromising, difficult situations." Photo: Kerry Maloney, Idaho Statesman






Former President Bill Clinton and Hillary Clinton. It turns out he did have sex with that woman after all.

Closer to home, as reported by Milwaukee Magazine:

"(Marilyn Figueroa) was working as a youth counselor at the Social Development Commission when someone called and said the mayor wanted to talk to her about a job. She thought it was a joke and hung up. But the mayor's chief of staff, John Tries, thought Marilyn's grass-roots connections made her perfect for the job, and he hired her.

That night at Pedrano's, Marilyn Figueroa thought she had found her dream job. She never imagined that it would become a nightmare.

Eight and a half years later, John Norquist stood on the porch of his Victorian home, a sad-eyed Susan Mudd, his wife of 14 years and the mother of his son, beside him. With the TV cameras running and giant snowflakes falling on what looked like a modern-day American Gothic, the 51-year-old preacher's son made a confession. He had had a five-year "affair" with his former aide, Marilyn Figueroa, a 41-year-old divorced mother of two. Norquist called it "a consensual sexual relationship."

Then this past Friday.....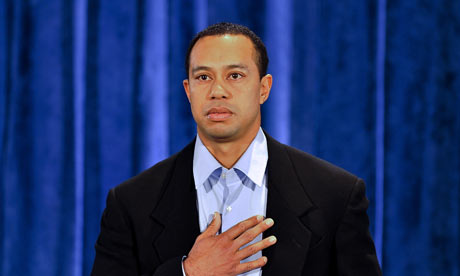 Tiger Woods apoligized.

Missing from his staged, "I'm petrified to take questions" charade was.....







Mrs. Tiger Woods.






Thank you, thank you, thank you for not standing next to this bum.



This site uses Facebook comments to make it easier for you to contribute. If you see a comment you would like to flag for spam or abuse, click the "x" in the upper right of it. By posting, you agree to our Terms of Use.