Kevin Fischer is a veteran broadcaster, the recipient of over 150 major journalism awards from the Milwaukee Press Club, the Wisconsin Associated Press, the Northwest Broadcast News Association, the Wisconsin Bar Association, and others. He has been seen and heard on Milwaukee TV and radio stations for over three decades. A longtime aide to state Senate Republicans in the Wisconsin Legislature, Kevin can be seen offering his views on the news on the public affairs program, "InterCHANGE," on Milwaukee Public Television Channel 10, and heard filling in on Newstalk 1130 WISN. He lives with his wife, Jennifer, and their lovely young daughter, Kyla Audrey, in Franklin.

POPULAR NATIONAL DAYTIME TV PROGRAM: "Don't you dare lie to me, Biff! I know you've been sleeping with my sister! And my mother!"

BIFF: "Carmella, baby, forgive me. You know you're the only…."

CARMELLA: "Shut up! Just shut up! I'm through with you!"

BIFF: "Calm down, precious."

CARMELLA: "DO NOT CALL ME PRECIOUS!"

BIFF: "Listen, we need to talk this over. We can….wait a minute. What are you….What are you doing with that gun? CARMELLAAAAAAAAA!!!!!!!!!!!!!!"
MILWAUKEE TV NEWS ANCHOR: "We interrupt your favorite soap opera to bring you live coverage of a news conference to be held downtown by Milwaukee Mayor Tom Barrett. Barrett has promised a major announcement he says will be of tremendous benefit to the health and welfare of all city of Milwaukee residents. We see Mayor Barrett walking to the podium now at City Hall so let's take you there live."

MILWAUKEE MAYOR TOM BARRETT: "Hello. Thank you all for coming. I called this news conference because I remain deeply concerned about the health of our city and its good people. Milwaukee is one of the top 20 most obese cities in America. This horrible health pattern cannot and must not be allowed to continue.

I have consulted with health experts about what measures the city could possibly undertake to put a halt to this major health dilemma. We have developed an initiative we are announcing today that is for Milwaukee residents' own good.

In order to reduce the fat intake and improve the diet of Milwaukeeans and those who visit our great city, we are encouraging all restaurants licensed by the city of Milwaukee to stop serving any type of cheese on their hamburgers. Furthermore, we are urging licensed restaurants and food operations in the city of Milwaukee to serve their hamburgers and other beef products medium well to well done.

This major health directive is voluntary and based on cooperation. Establishments that comply with our request will benefit from word of mouth and good publicity.

However, if our call for voluntary compliance isn't heeded, I will ask the Milwaukee Common Council to enact an ordinance to require city of Milwaukee restaurants to make these changes that I believe will save lives.

What's more, I am urging other cities across Wisconsin and throughout America to take similar action in the interest of public health.

I realize this represents these provisions are dramatic. However, it seems this is a necessary step the city can adopt to ensure city residents attain a healthy diet. If we can save but one life, this major project will be worth it.

Are there any questions?"

REPORTERS: "Mayor Barrett, Mayor Barrett…."

MILWAUKEE TV NEWS ANCHOR: "Well, you just heard an amazing proposal offered by Milwaukee Mayor Tom Barrett that will save lives in our city, an initiative to improve the health and diets of Milwaukee residents by reducing or eliminating cheese served on hamburgers at Milwaukee restaurants and by setting cooking standards for beef served. We're on top of this major announcement and will have more on this story on our news at 5, 6, and 10. We now return you to your favorite soap opera.

SUE: John, you look really upset. What's the matter?"

JOHN: "You are not going to believe what happened between Biff and Carmella."
FADE TO SOAP OPERA CLOSING CREDITS


Think it's too outrageous?

Think it's sacrilegious?

Think it couldn't happen to such a classic here like at Sobelman's?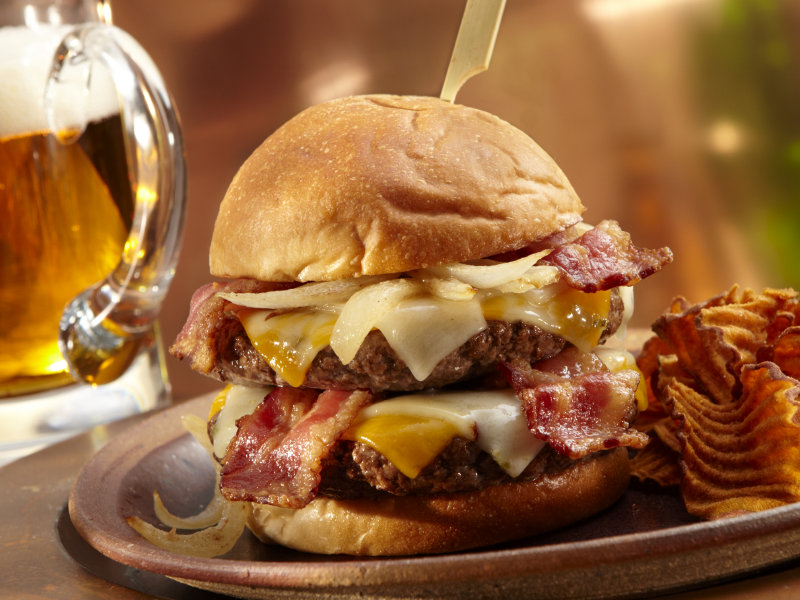 Guess what? It is happening in New York, but not with cheese and red meat.

The evil enemy is salt and the Chief of the Salt Police is New York super nanny mayor Michael Bloomberg. Unsatisfied with his attempts to dictate about trans fat and calorie listings on restaurant menus, Bloomberg has announced what the New York Times describes as "a broad new health initiative aimed at encouraging food manufacturers and restaurant chains across the country to curtail the amount of salt in their products. The plan, for which the city claims support from health agencies in other cities and states, sets a goal of reducing the amount of salt in packaged and restaurant food by 25 percent over the next five years. "

Like most, if not all good-intentioned efforts promulgated by touchy-feely liberals, there are consequences that were ignored or never thought of. Bloomberg's assault on salt is problematic for many reasons:

1) It is voluntary. There are no enforcing teeth.

2) Targeted companies and manufacturers have to want to play along. Will they be willing to produce a less salty frozen teriyaki chicken for New York and another version for the rest of the country?

3) While Bloomberg's idea may sound good on the surface, salt can actually beneficial.
4) It's a micromanage nightmare.

5) It's been met with lukewarm support by companies.

6) Little research has been done on the health ramifications of such an initiative.

And don't discount the OMG you can't be serious factor.

The New York City Department of Health and Mental Hygiene released preliminary targets for sodium content and will reveal final targets in the spring and ask companies to commit to the program. Eric Felten of the Wall Street Journal reports that, "Among the myriad foods targeted are 'deli-meat sandwiches' that 'pack [the daily limit of] sodium in one serving'."

That would include the famous….

>
>
>
>
>
>
>
>
>
>
>
>
>
>
>
>
>
>
>
>
>
>
>



Reuben sandwich, laden with salt.

In New York.

It's like tugging on Superman's cape, spitting in the wind, pulling the mask off the ol' Lone Ranger, and taking the cheese off the burger in Wisconsin.

In his brilliant piece, the Wall Street Journal's Eric Felten writes:


"When it comes to unhealthy tastes, one would think heroin might be of concern. But as the New York Post reported earlier this month, for 2½ years the New York Department of Health and Mental Hygiene—yes, the same earnest helpers eager to save us from our addiction to salt—have been distributing a '10 Tips for Safer Use' brochure showing the city's junkies how to improve their smack-shooting experience. 'Find the vein before you try to inject,' health officials urge. 'Tie off to make your veins visible.' Included is a cartoon rendering of a man with a golden arm, a bit of rubbery tubing strapped around his bicep, the veins in the crook of his arm bulging in anticipation of the stuff about to be injected. Isn't there something slightly odd about a government agency that facilitates drug felons getting their fixes while working up a new Volstead Act for pepperoni? Where's the brochure with helpful hints on how best to choke down a sausage-egg-and-biscuit breakfast sandwich?"

Liberal politicians and bureaucrats want to manage every part of our lives. They truly believe they know best and now want to pick and choose what we eat and how much.

It's just plain nuts.

One of the few sane voices I could find in this story was that of Chor-San Khoo, vice president for global nutrition and health at the Campbell Soup Company, quoted by the New York Times about compliance with Mayor Bloomberg's plea. His company has already, according to the paper, made "significant reductions in the amount of salt in many of its products."

Khoo wisely said, "We will continue to reduce sodium as long as there's consumer acceptance in the marketplace."

Spoken like a true advocate of the free marketplace that nanny-state liberals fail to understand.

Here's the NY heroin brochure, page-by-page.
This site uses Facebook comments to make it easier for you to contribute. If you see a comment you would like to flag for spam or abuse, click the "x" in the upper right of it. By posting, you agree to our Terms of Use.