Kevin Fischer is a veteran broadcaster, the recipient of over 150 major journalism awards from the Milwaukee Press Club, the Wisconsin Associated Press, the Northwest Broadcast News Association, the Wisconsin Bar Association, and others. He has been seen and heard on Milwaukee TV and radio stations for over three decades. A longtime aide to state Senate Republicans in the Wisconsin Legislature, Kevin can be seen offering his views on the news on the public affairs program, "InterCHANGE," on Milwaukee Public Television Channel 10, and heard filling in on Newstalk 1130 WISN. He lives with his wife, Jennifer, and their lovely young daughter, Kyla Audrey, in Franklin.


US President Barack Obama speaks focusing on the need to reform health care system as an secret service agent keeps guard during a town hall meeting at the Southwest High School in Green Bay, Wisconsin, on June 11, 2009. JEWEL SAMAD/AFP/Getty Images







US President Barack Obama (R) shakes hands with people after speaking on the need to reform health care system during a town hall meeting at the Southwest High School in Green Bay, Wisconsin, on June 11, 2009. AFP PHOTO/Jewel SAMAD JEWEL SAMAD/AFP/Getty Images





President Barack Obama delivers a note to excuse Kennedy Corpus from her last day of school Thursday. Kennedy was attending Obama's town hall meeting about health care at Green Bay Southwest High School with her father, John Corpus. Milwaukee Journal Sentinel photo: Tom Lynn





Demonstrators leave Beaver Dam Park on Green Bay's west side headed for Packerland Drive to show their displeasure with President Barack Obama's ecoomic and social policies. About 1,000 people lined Packerland Drive leading up to Southwest High School where Obama appeared Thursday for a town hall meeting to discuss health care issues. Andy Nelesen/Green Bay Press-Gazette







South Korean protesters shout slogans during a rally demanding release of American journalists detained in North Korea, at a park in Seoul, South Korea, Tuesday, June 9, 2009. The sentencing of two American journalists to 12 years in a North Korean labor prison sets the stage for possible negotiations with the reclusive nation for their release _ perhaps involving an envoy from the United States. (AP Photo/Ahn Young-joon)





A Lebanese woman shows her ink-stained thumb after casting her vote at a polling station in Saadnayel, in the eastern Bakaa valley, Lebanon, Sunday, June 7, 2009. Lebanese streamed to their hometowns on the Mediterranean coast and high up in the mountains Sunday to vote in crucial elections that could unseat a pro-Western government and install one dominated by the Iranian-backed militant group Hezbollah. (AP Photo/Hassan Ammar)





A handicapped clergyman leaves after he casting his vote as the women stand in line in their section at a polling station at Masoumeh shrine in Qom about 120 kms south of Tehran, Iran, on Friday, June 12, 2009. (AP Photo/Kamran Jebreili)





Libyan leader Moammar Gadhafi signs a picture of himself, at the end of a meeting with hundreds of prominent Italian women in a concert hall in Rome, Friday, June 12, 2009. Gadhafi, on his first visit to Italy, has met with the country's top officials and also faced angry protests over his human rights record and treatment of migrants during a speech at Rome's university. (AP Photo/Andrew Medichini)





This handout image released by the Brazilian Navy on June 9, 2009 shows a piece of the wreckage of the ill-fated Air Bus A330-200 being lift into a naval ship during search operations. Brazilian Air Force (FAB) helicopters arrived in the Fernando de Noronha archipelago on Tuesday carrying 16 bodies of victims of the Air France flight A447, which crashed on June 1, 2009 in the Atlantic Ocean while carrying 228 people on their way from Rio de Janeiro to Paris. After undergoing initial procedures of identification in Fernando de Noronha, the first 16 bodies recovered will be transported to the search operations centre in the coastal city of Recife, some 740 miles southwest from the place where the current search missions are taking place. (Photo by Brazilian Navy via LatinContent/Getty Images)







Brazilians pray for the victims of Air France flight 447 at the Saint Camille de Lellis church in Brasilia on June 7, 2009. A search mission has now recovered 5 bodies of victims and much debris in a remote stretch of the Atlantic Ocean from Air France flight 447, which disappeared on June 1 over the Atlantic while carrying 228 people en route from Rio de Janeiro to Paris. (JOEDSON ALVES, AFP/GETTY IMAGES / June 7, 2009)





A Russian Christian extinguishes candles in the Church of the Holy Sepulcher, traditionally believed to be the site of the crucifixion of Jesus Christ, in Jerusalem's Old City, Tuesday, June 9, 2009. Police have ruled out foul play in the sudden death of an Armenian monk Tuesday across from the traditional site of Jesus' tomb. The monk, in his mid-thirties, collapsed, apparently from a heart attack, while working inside the church. Medical teams pronounced the man dead on the scene. Police cordoned off the balcony, positioned under a large stone mosaic depicting a crucified Jesus, across from the ornate two-story stone structure that represents the tomb under the round roof at the center of the church. (AP Photo/Muhammed Muheisen)





Authorities attend to the injured after a multi-vehicle collision in the heavy fog at the Cajon Pass on Interstate 15 near Oak Hills, Calif., Wednesday, June 10, 2009. As many as 50 vehicles were involved in a chain-reaction accident early Wednesday in fog on a mountain highway, with injuries reported and wreckage scattered for a half-mile, authorities said. (AP Photo/Eric Reed)






The Washington Monument looms over the U.S. Holocaust Memorial Museum in Washington, Wednesday, June 10, 2009. An elderly gunman opened fire with a rifle inside the crowded U.S. Holocaust Memorial Museum on Wednesday, gravely wounding a security guard before being shot. Authorities said they were investigating a white supremacist as the possible shooter. (AP Photo/Charles Dharapak)





Sarah Langston, from Takoma Park, Md., left, prays as another woman lights a candle near a makeshift memorial after members of the Interfaith Conference of Metropolitan Washington held their interfaith solidarity gathering at the U.S. Holocaust Memorial Museum in Washington, Thursday, June 11, 2009, a day after a shooting left a security officer dead and the gunman wounded. (AP Photo/Alex Brandon)




David Schwake, from the German Embassy, left, lights a candle with Ron Halber, from the Jewish Community Relations Council, before the Interfaith Conference of Metropolitan Washington held their interfaith solidarity gathering at the U.S. Holocaust Memorial Museum in Washington, Thursday, June 11,2009, a day after a shooting left a security officer dead and the gunman wounded. (AP Photo/Alex Brandon)






A girl peers from her front gate as a U.S. Army soldier from A Co., 1st Battalion, 5th Infantry Regiment patrols in western Mosul, 360 kilometers (225 miles) northwest of Baghdad, Iraq, Tuesday, June 9, 2009. (AP Photo/ Maya Alleruzzo)





U.S. Marines from the 2nd Marine Expeditionary Brigade rest inside a tent at Camp Leatherneck in Afghanistan's Helmand province Tuesday June 9, 2009. (AP Photo/David Guttenfelder)





St. Sgt. Kevin Clark from the 2nd MEB, 2nd Battalion, 3rd Marines works out by flipping a heavy truck tire across his forward operating base Golestan in Afghanistan's Farah province Saturday June 13, 2009. (AP Photo/David Guttenfelder)







Alaska Gov. Sarah Palin poses for a photo with walkers at the Walk Now for Autism awareness and fundraising event sponsored by Autism Speaks at Manhattanville College in Purchase June 7, 2009. (Ricky Flores/The Journal News)





Former Miami Heat player Alonzo Mourning, right, shakes hands with kidney dialysis patient Elvin Richardson following Gov. Charlie Crist's, center, signing into law the Alonzo Mourning Access to Care Act, Wednesday, June 10, 2009, in Tallahassee, Fla. The bill signing and visit took place at the DaVita Dialysis Center of Tallahassee. The new law will let patients under 65 with end-stage renal disease obtain Medigap insurance if they already qualify for Medicare. (AP Photo/Phil Coale)





Supreme Court nominee Sonia Sotomayor, wearing a cast on her right foot, meets with Sen. Mary Landrieu, D-La., not in picture, Monday, June 8, 2009, on Capitol Hill, in Washington, Sotomayor broke her ankle when she stumbled at La Guardia airport enroute to Washington.(AP Photo/Manuel Balce Ceneta)





National Park Service trail crew members prepare to repel down the side of a cliff while repairing a trail on June 10, 2009 in the Grand Canyon National Park, Arizona. Work began this week on a major federal stimulus funded project to repair the scenic South Kaibab Trail at the park. The project is the biggest trail reconstruction project in the Grand Canyon since the 1960s and the first there to use some of the $10.8 million in economic stimulus money granted by Congress for projects in the park. Some 4.5 million people visit the Grand Canyon each year, making it the most visited destination park in the nation. (Photo by John Moore/Getty Images)





Hikers walk over the new opened Trift bridge over the Trift Lake near the Trift Glacier in the Susten rock mass close to Gadmen, central Switzerland, Friday, June 12, 2009. The suspension bridge is 170 meter long (558feet) and 100 meters (328feet) above the lake. It is the longest suspension bridge for pedestrians in the Alps. (AP Photo/Keystone, Urs Flueeler)






In this photo provided by Army Golden Knights, former President George H. W. Bush, bottom, rides tandem with Sgt. Michael Elliott of the Army Golden Knights parachute team as he celebrates his 85th birthday with a parachute jump, Friday, June 12, 2009, in Kennebunkport, Maine. (AP Photo/Army Golden Knights, SSG Joe Abeln)







A staff member at the city-state's Jurong Bird Park holds three baby Masked Lovebirds, a 3-week old, top, a 4-day old, right, and a 3-day old chick, left, at the park on Tuesday, June 9, 2009, in Singapore.(AP Photo/Wong Maye-E)







A three-week-old Geoffroy's marmoset sits with its father on the trunk of a tree at the Ramat Gan Zoo near Tel Aviv on June 7, 2009. (JONATHAN NACKSTRAND, AFP/GETTY IMAGES / June 7, 2009)





Newborn baby panthers Larisa and Sipura stare at photographers during a media presentation of the cubs at the Tierpark zoo on June 9, 2009 in Berlin, Germany. The two panthers are twins and were born on April 26. (Photo by Sean Gallup/Getty Images)






A Thai zoo official feeds a baby pangolin milk at the Dusit Zoo in Bangkok, Thailand on Tuesday, June 9, 2009. The animal was handed over to the zoo when villagers found it abandoned on a road on the outskirts of Bangkok. (AP Photo/Sakchai Lalit)





Cooking robot "Okonomiyaki Robot" pours the ingredients for okonomiyaki (Japanese flour cake) over a heated cooking pan during its demonstration at the International Food Machinery and Technology Exhibition in Tokyo, Japan, Tuesday, June 9, 2009. The Okonomiyaki Robot, developed by Osaka-based robot system integrator Toyo Riki Co., can demonstrate the whole process of okonomiyaki cooking as stirring the ingredients in a bowl, pouring them on the heated cooking pan, turning the okonomiyaki over with spatulas and serves it on a plate and asking you what types of sauces and other condiments to go with it by using both arms. (AP Photo/Koji Sasahara)







Participants take part in a big open air white dinner on the place de la Concorde in Paris, Thursday, June 11, 2009. The event is a reminiscent of US-style flash mobs, where hundreds of people descend on one area at a specific time, summoned by SMS text message, gsm phone call or email. The hotel de Crillon is seen on background. (AP Photo/Philippe Charlot)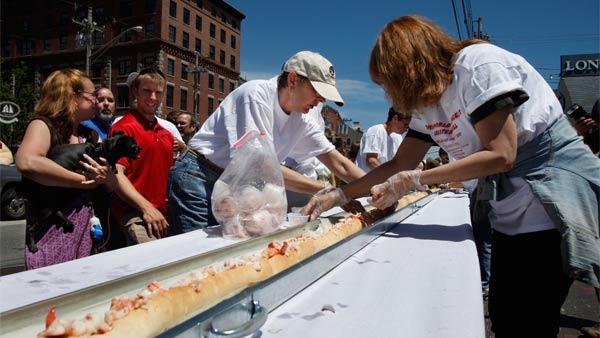 Beverly Kocenko, center, and Nancy Sewall, right, prepare a 61 feet, 9.5 inches lobster roll in an attempt to set a Guinness World Record Sunday, June 7, 2009 during the Old Port Fest in Portland, Maine. The organizers sold pieces of the record-setting roll to raise money to provide swimming lessons for needy children. (JOEL PAGE, ASSOCIATED PRESS / June 7, 2009)





Nathan Nickerson, owner of Arnold's Lobster and Clam Bar, holds up a rare "yellow lobster," right, and a normally pigmented lobster, left, at Arnold's Lobster and Clam Bar in Eastham, Mass., on Cape Cod Wednesday, June 10, 2009. The female lobster, named "Fiona" by owner Nathan Nickerson, was recently caught off the coast of Prince Edward Island in Canada and given to Nickerson by a friend. (AP Photo/Julia Cumes) (Julia Cumes, AP / June 10, 2009)







NASCAR driver Kyle Busch, left, looks at the damage to the Gibson guitar he smashed after winning the Nationwide Series race Saturday, June 6, 2009 at Nashville Superspeedway. Busch whacked the guitar trophy three times against the ground before tossing the chipped steel instrument aside. It was a revered Gibson Les Paul guitar that had been hand-painted by longtime NASCAR artist Sam Bass and has become the symbol of Nashville Speedway. On Monday, Bass told NASCAR Scene he was heartbroken to see Busch destroy the trophy. "It was stunning, absolutely stunning to see that thing destroyed within seconds of him getting it," Bass told Scene. "It's his trophy, he can choose to do with it what he wants. But I'm not going to lie about it. If he had asked me, 'Hey, I'm thinking about destroying that trophy guitar whenever I win it, what do you think?' Of course I would have told him, 'No! Please don't. Let us give you a prop guitar.' " Photo: SHELLEY MAYS / THE TENNESSEAN





Workers hang a giant soccer shirt that reads one year to go to the 2010 soccer World Cup to be held in South Africa in Cape Town, South Africa, Wednesday, June 10, 2009. With one year to go, chief World Cup organizer Danny Jordaan is confident everything in South Africa will be ready on time and promised visiting fans will be embraced, not mugged, when they show up. (AP Photo/Schalk van Zuydam)





Jim and Betty Lilley of Charlotte, North Carolina, like many others, needed help getting their converter box hooked up before the June 12th deadline. Their assistance came from the South Iredell Senior Center, which is using federal grants to help seniors be ready for the digital conversion. JEFF WILLHELM, Charlotte Observer.







Museum exhibit at Warner Bros. and FIDM's 70th anniversary screening of "The Wizard of OZ" on June 9, 2009 in Los Angeles, California. (Photo by Alberto E. Rodriguez/Getty Images)





Actor George Lopez, center, poses with models dressed as Dorothy at "The Wizard of Oz" Exhibition Opening Night Gala celebrating the Ruby Slipper Collection and the 70th Anniversary of "The Wizard of Oz" in Los Angeles on Tuesday, June 9, 2009. (AP Photo/Matt Sayles)
A wax figure of actor Jim Carrey is seen during a first-look tour of the new Madame Tussauds Hollywood on June 11, 2009 in Hollywood, California. (Photo by David Livingston/Getty Images)


Journalists look at photographs at a preview of "Give Peace A Chance: John Lennon and Yoko Ono's Bed-In For Peace" at The Museum at Bethel Woods in Bethel, N.Y. Thursday, June 11, 2009. The exhibit will be on display at The Museum from June 12 through Sept. 7, 2009. (AP Photo/Craig Ruttle)






Michelle Obama at Westminster Abbey. Matt Drudge of the Drudge Report commented, "Walking out of a church. If Sarah Palin were to appear in public looking like this, there would be cat-calls about her having mental illness. But this is Michelle Obama, so her clown outfit at Westminster Abbey is fashionable. This is one of the reasons I've been linking more and more to foreign news sources. There's a hunger for critical thinking in these big times, and American news outlets don't provide it. Michelle Obama dressed like a circus clown is just 'fashionable' for American media…"
Photo: Times Online
This site uses Facebook comments to make it easier for you to contribute. If you see a comment you would like to flag for spam or abuse, click the "x" in the upper right of it. By posting, you agree to our Terms of Use.