Kevin Fischer is a veteran broadcaster, the recipient of over 150 major journalism awards from the Milwaukee Press Club, the Wisconsin Associated Press, the Northwest Broadcast News Association, the Wisconsin Bar Association, and others. He has been seen and heard on Milwaukee TV and radio stations for over three decades. A longtime aide to state Senate Republicans in the Wisconsin Legislature, Kevin can be seen offering his views on the news on the public affairs program, "InterCHANGE," on Milwaukee Public Television Channel 10, and heard filling in on Newstalk 1130 WISN. He lives with his wife, Jennifer, and their lovely young daughter, Kyla Audrey, in Franklin.

This past Saturday, US first lady Michelle Obama condemned the mass kidnapping of Nigerian schoolgirls by the militant group Boko Haram. Speaking instead of her husband in the weekly presidential address, the first lady described the abductions as an unconscionable act.

"Like millions of people across the globe, my husband and I are outraged and heartbroken over the kidnapping of more than 200 Nigerian girls from their school dormitory in the middle of the night.

"This unconscionable act was committed by a terrorist group determined to keep these girls from getting an education – grown men attempting to snuff out the aspirations of young girls.

"And I want you to know that Barack has directed our government to do everything possible to support the Nigerian government's efforts to find these girls and bring them home.

"In these girls, Barack and I see our own daughters. We see their hopes, their dreams – and we can only imagine the anguish their parents are feeling right now."

Before taking to the airwaves, Mrs. Obama began with a photo and tweet with a message: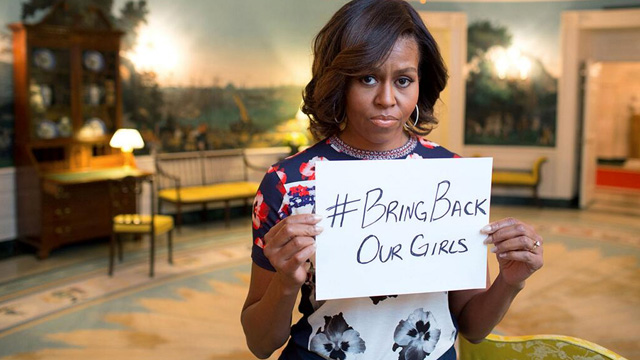 .
How does that phrase go? No good deed goes unpunished?

No matter how admirable the First Lady's intentions, she opened herself up to second-guessing and criticism.

From Ann Coulter.

Political cartoonists Glenn McCoy and Glenn Foden.

Rush Limbaugh called the display "pathetic."

Over at PJ Media, blogger Chris Queen writes, "No one doubts the sincerity of those who are concerned, and nobody is making light of the plight of these poor girls. Instead, Coulter and others like Rush Limbaugh have aimed their daggers at the emptiness of such awareness-raising gestures. No one at Boko Haram is saying, 'Look at their photos. They must really be serious. We should let the girls go.' Coulter's parody photo distills the real behavior of the Left: sincere intentions trump decisive action."

Mrs. Obama's sign has exploded, garnering lots of support. That means if you have another perspective, you're obviously cold, callous, mean, and live under a rock. The warm, fuzzy, inclusive Left on social media has published some ugly, nasty, unprintable stuff in response to and about Coulter.

But even Politico, not exactly a conservative news site, finds Mrs. Obama's action questionable and politically risky:

"The initial choice to weigh in, and related moves in the days since, have been unusual for Obama. She has long been a first lady who selects her causes carefully, one who has never waded into a truly heated, front-burner foreign policy issue before — certainly not one where her voice could influence life-or-death consequences for the girls, still held captive in a terrorist camp.

"If the story ends well, there are clear benefits — not just for the missing girls and their families, but for the administration. But if the saga ends in tragedy, Obama could have attracted more attention to yet another instance in which her husband's administration has spoken out against human rights violations but failed to stop them."



This site uses Facebook comments to make it easier for you to contribute. If you see a comment you would like to flag for spam or abuse, click the "x" in the upper right of it. By posting, you agree to our Terms of Use.