Kevin Fischer is a veteran broadcaster, the recipient of over 150 major journalism awards from the Milwaukee Press Club, the Wisconsin Associated Press, the Northwest Broadcast News Association, the Wisconsin Bar Association, and others. He has been seen and heard on Milwaukee TV and radio stations for over three decades. A longtime aide to state Senate Republicans in the Wisconsin Legislature, Kevin can be seen offering his views on the news on the public affairs program, "InterCHANGE," on Milwaukee Public Television Channel 10, and heard filling in on Newstalk 1130 WISN. He lives with his wife, Jennifer, and their lovely young daughter, Kyla Audrey, in Franklin.
A groundbreaking was held Saturday for the newest location of Milwaukee's Water Street Brewery in Oak Creek's Drexel Town Square development. The brewpub will be constructed at Drexel and Howell Avenues.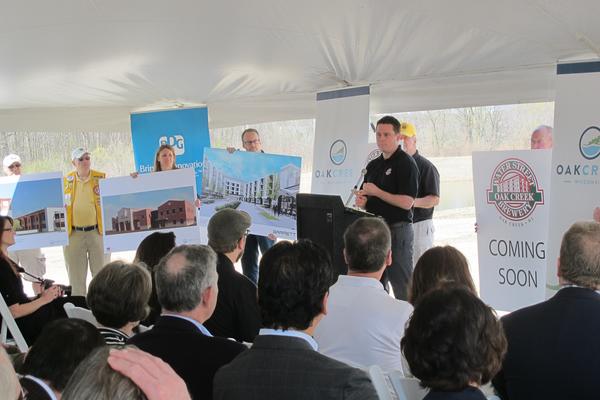 Matt Schmidt, Water Street Brewery director of operations, makes the announcement of the new brewery. (Photo: Milwaukee Business Journal)

"When I saw the project (Drexel Town Square) come across my desk it instantly caught my attention," said Schmidt as reported in the Milwaukee Business Journal.

The Oak Creek location will be the fourth Water Street Brewery.






Downtown






Grafton






Delafield


Each location makes its own beer.

The Business Journal reports, "Drexel Town Square is the redevelopment of the former Delphi manufacturing plant into what will become Oak Creek's downtown area."

Meanwhile in Franklin…




FRANKLIN RESIDENTS, DON'T SIGN THE PETITION
This site uses Facebook comments to make it easier for you to contribute. If you see a comment you would like to flag for spam or abuse, click the "x" in the upper right of it. By posting, you agree to our Terms of Use.