Kevin Fischer is a veteran broadcaster, the recipient of over 150 major journalism awards from the Milwaukee Press Club, the Wisconsin Associated Press, the Northwest Broadcast News Association, the Wisconsin Bar Association, and others. He has been seen and heard on Milwaukee TV and radio stations for over three decades. A longtime aide to state Senate Republicans in the Wisconsin Legislature, Kevin can be seen offering his views on the news on the public affairs program, "InterCHANGE," on Milwaukee Public Television Channel 10, and heard filling in on Newstalk 1130 WISN. He lives with his wife, Jennifer, and their lovely young daughter, Kyla Audrey, in Franklin.

You've given generously to help our troops who have been severely disabled in the war on terror. And today I'd like to share a thank you note we received from Wayne, a wounded hero who received help providing his family with meals over Easter weekend last year, thanks to faithful friends like you.


"When I received your Easter check for $60 I broke down in tears," wrote Wayne, a retired Marine.

"I am so thankful that you did that for me and my family. We really needed it more than you could ever imagine."


Please help rescue more wounded warriors like Wayne who are struggling to feed their children this Easter, Kevin.

I'm Major General John K. Singlaub, U.S. Army (Ret.), national spokesman for your Coalition to Salute America's Heroes. As you may recall from my previous messages, the Coalition is trying to rush $60 to help our struggling military families buy meals over Easter weekend.

Easter is just days away (April 20), and we don't have much time. So please help right now with the most generous, tax-deductible gift you can afford to the Coalition's Emergency Easter Meals Project.

A tax-deductible Easter gift of $60 can help provide the money to put an Easter ham or turkey with all the trimmings on the table for the family of a severely wounded serviceman or woman.

This Easter we're trying to help disabled troops like retired Army Staff Sgt. Jason Gilbert.

While serving in Afghanistan Jason was hit by a roadside bomb. Jason was rushed to a hospital in Germany, but refused to go home and insisted on being sent back into combat in Afghanistan.

Soon he was hit a second time, and suffered wounds almost too painful to imagine: broken bones in his legs, arms and back. . . facial fractures . . . teeth knocked out . . . and a traumatic brain injury.



The wounded hero's wife told us, "He's been struggling to find a job because of his disabilities. . . . We have three children so we have to take care of their needs, and grocery store prices are always going up."


For you and me, rising grocery prices are an aggravation. But for Jason and his wife the high cost of cereal, milk, cheese, bread, peanut butter and other staples can make it impossible to feed their three children.



Please, don't let that happen. You can be a hero to a wounded hero right now by helping to provide them with meals over Easter weekend.

Fortunately, the Coalition's family of supporters provided Jason with emergency financial aid. But in the next few days (between now and Easter Sunday) the Coalition's phone will ring many times . . . and on the other end will be the voice of another desperate, frightened hero pleading for help.

I don't want to turn away even one severely injured marine, soldier, sailor or airman like Jason, who is physically unable to feed his children . . . because of the wounds suffered while protecting your children (and mine) from terrorism.

I know you feel the same way, because you've already made a financial sacrifice of your own to help wounded warriors like Jason.

Remember, Easter is right around the corner - April 20 - and we'll need a few days to collect donations, determine how many military families we can help this Easter and put their $60 gifts into the mail.

So please make your tax-deductible Easter meals gift of $60 or whatever you can afford right now. And I am deeply grateful for all you've already done for our wounded heroes, who have suffered painful, lifelong injuries . . . so you and I wouldn't have to.

Sincerely,



Major General John K. Singlaub
U.S. Army (Ret.)

P.S. As a retired Army General who commanded troops during three wars I can tell you our troops are tough as nails.



Yet you've just read a thank you letter from a wounded marine who was so grateful for the $60 he got for meals last Easter that he broke down and cried.


Yes, Wayne's letter is deeply moving. But I shared it with you to illustrate a very important point: Your kindness is making a profound difference to our troops and veterans severely disabled in the war on terror.

Thank you in advance for your generous help!

And remember your tax-deductible Easter gift of $60 can help provide money for Easter dinner for a severely disabled military hero and his family. Your donation of $120 can help feed TWO financially strapped military families, $180 can help feed THREE wounded warriors and their families, and so on. It's all part of the Emergency Easter Meals Project, sponsored by the Coalition to Salute America's Heroes.



Here's a quick update on our Easter meals project, and a big thank you!

So far we've raised more than $31,000 to help our severely disabled troops provide their families with meals over Easter weekend. But a few more hungry military families still need help.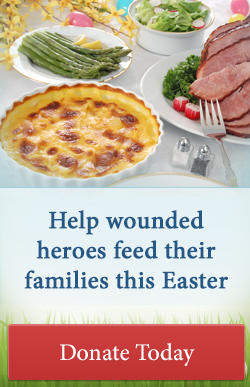 If you've already made an Easter donation, thank you! (Please consider giving again if you can.) And if you haven't yet contributed, please help right now. Easter Sunday is just five days away, so this is your last chance.

As I mentioned, the Coalition will be sending $60 to as many struggling military families as possible to help them provide their families with Easter meals. Families like Joshua's, who told us,

"We were not going to be able to buy groceries for the month. The gratitude that my family and I have for the help you provided is hard to put into words."

In the few days between today and Easter we expect to receive many more desperate calls from troops and veterans unable to feed their children because they've been burned, blinded, paralyzed or even brain-damaged fighting terrorists.

So please make a tax-deductible donation of $35 or whatever you can afford right now to the Emergency Easter Meals Project, sponsored by the Coalition to Salute America's Heroes. (Of course any military families who receive their gift a few days after Easter will still be able to use it for meals or other urgent expenses.)

It would break my heart to have to say "No" to even one wounded warrior who said "Yes" to protecting your family and mine from terrorists. I hope I can count on you to help rescue one more desperate military family this Easter.

Sincerely,



Major General John K. Singlaub
U.S. Army (Ret.)

P.S. Remember, Easter Sunday is just five days away, so this is your last chance to help provide meals over Easter weekend to a military hero struggling to feed his family.

Thank you from the bottom of my heart for the wounded heroes you're helping by supporting the Coalition to Salute America's Heroes!
Please consider donating. If you do, mention where you saw this request. Thank you!


This site uses Facebook comments to make it easier for you to contribute. If you see a comment you would like to flag for spam or abuse, click the "x" in the upper right of it. By posting, you agree to our Terms of Use.