Kevin Fischer is a veteran broadcaster, the recipient of over 150 major journalism awards from the Milwaukee Press Club, the Wisconsin Associated Press, the Northwest Broadcast News Association, the Wisconsin Bar Association, and others. He has been seen and heard on Milwaukee TV and radio stations for over three decades. A longtime aide to state Senate Republicans in the Wisconsin Legislature, Kevin can be seen offering his views on the news on the public affairs program, "InterCHANGE," on Milwaukee Public Television Channel 10, and heard filling in on Newstalk 1130 WISN. He lives with his wife, Jennifer, and their lovely young daughter, Kyla Audrey, in Franklin.

THERE ARE THOUSANDS AND THOUSANDS OF
FOOD BLOGS, BUT ONLY ONE CULINARY NO-
NO!


My wife asked a silly question the other day. Jennifer, who these days has been juggling the roles of wife, mom, caregiver, cook, and chauffeur marvelously wondered if I minded if she made some BLTs.

Would I mind? Are you kidding?

I was like that dog in the TV commercial that goes nuts over bacon strips. BLTs? Bring 'em on!

Doesn't every non-vegetarian idolize and crave bacon? Severo Avila does.



Avila is features editor of the Rome News-Tribune in Rome, Georgia. He wrote an unabashed column last month.

"I consider myself a bacon enthusiast and aficionado. And by that I mean I consume unhealthy amounts of bacon and am obsessed with it.
"It's gotten to the point now where all my friends will send me emails about bacon events, will share bacon-related items on my Facebook wall, will cook me bacony dishes and even give me bacon-related gifts. I am in possession of bacon tumblers, magnets, T-shirts, chapstick, breath mints, bandaids, stickers and even underwear with images of bacon all over them.

"Let me explain my love of bacon…

"I believe that bacon is the greatest invention by man to date (followed closely by Downy Wrinkle Releaser and Uncrustables). Everything about bacon is beautiful. It comes from the noble pig. It smells delectable and its taste is incomparable. The sound of bacon sizzling is akin to angels whispering on a cool misty morning up in the Appalachian mountains of Kentucky. One crispy bite puts all the world's wrongs to right, even if it's just for a single moment."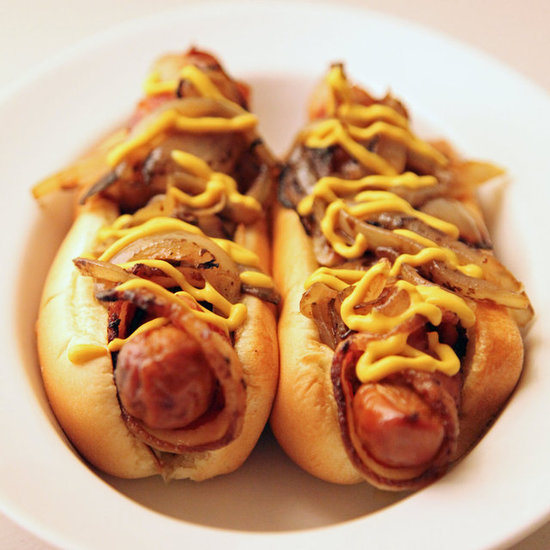 Topped with candied bacon


I know what you're thinking. Not seein' a no-no yet. Oh, we can fix that real fast.
Photo: Philippine Veterinary Drug Association
Porcine Epidemic Diarrhea (PED) has been referred to as a killer, an explosive diarrhea that infects suckling pigs. This deadly virus is associated with pigs and does not cause any harm to other animals or humans and poses no risk to food safety. PED produces severe diarrhea in pigs that spreads within days to all pigs in a herd. The pigs get dehydrated and die. Young pigs are especially susceptible where the virus results in a death rate of nearly 100 percent.

The virus has been widespread in many countries in Asia and Europe for years, having been originally detected in 1971 in England. However, the USDA confirmed that PED was identified in the United States for the first time last May.






Photo: Agri-View

PED has now spread to 27 states, including Wisconsin. How did it travel here? No one knows.

"This is a very serious disease," says Warren Wilson, technical service veterinarian for Merck Animal Health, and member of the American Association of Swine Veterinarians. "If you are raising sows (that) get this disease, you will lose up to 100 percent of your baby pigs for four to six weeks."

The virus strengthens in cold weather, so it's no surprise that the number of PED-related deaths has jumped significantly since December. It's been estimated that 2.7 to 6 million pigs died in the past year from PED in the US, shrinking the nation's pig herd by 3 percent.

Not as many pigs means not as much bacon. And that means prices have gone up, by 10% or more.

According to the U.S. Bureau of Labor Statistics, a $5.46 per pound price of bacon today represents 13% increase from a year ago. Prices will probably go higher.

Compounding the problem is the fact pigs take approximately six months to reach market maturity. PED kills quickly, within a few weeks. Replenishing the country's herds will take a long time. There is no known cure for PED.

Breakfast lovers can't be too happy. Prices of eggs, bacon, coffee, orange juice and milk all are on the rise.

When news broke out in 2012 about a possible bacon shortage, CNN's Jarrett Bellini made light of the issue:

"The whole scare actually exploded on social media a couple of days after the National Pig Association of the United Kingdom put out a press release ominously stating, 'A world shortage of pork and bacon next year is now unavoidable.'

"They might as well have just printed, 'Jump off a bridge. Take a friend.'

"But now I'm here to tell everyone in America to calm down. I was totally with you -- the fatty, delicious pork sky was most definitely falling -- but it now seems we're all going to be just fine."









If you can afford to.


CULINARY NO-NO BONUSES


'No more, Mrs. Obama' ... MORE. And MORE.


This one comes from that wacky state of California


Now here's a great idea


NOTE: There will be no Culinary No-No on Easter Sunday. The feature will return a week later.
This site uses Facebook comments to make it easier for you to contribute. If you see a comment you would like to flag for spam or abuse, click the "x" in the upper right of it. By posting, you agree to our Terms of Use.