Jennifer is a one in a million stay-at-home mom. (More like one OF a million stay at home moms!) She graduated from a liberal arts college but there is nothing liberal OR artsy about her. She is married to Kevin Fischer of This Just In, and together they have a beautiful young daughter Kyla Audrey. In no particular order she loves dogs, wine, a good bargain, her family, pizza, and entertaining. Follow her blog of all things miscellaneous including but not limited to cooking and baking, entertaining and party planning, being a mommy, and homekeeping.

Like many of you, I watched the entire Wisconsin-Kentucky game Saturday night that left me stunned and saddened. The Badgers' dreams of going to the championship were erased when Kentucky's Aaron Harrison hit a crushing, heartbreaking three-point shot.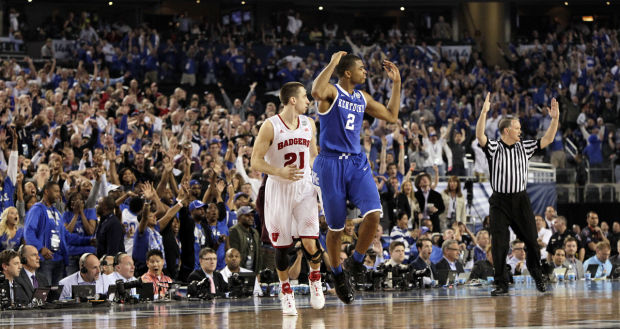 In this morning's Journal Sentinel, sports columnist Mike Hart poses a question.







"Couldn't Scott Walker veto that jumper?"
This site uses Facebook comments to make it easier for you to contribute. If you see a comment you would like to flag for spam or abuse, click the "x" in the upper right of it. By posting, you agree to our Terms of Use.