Kevin Fischer is a veteran broadcaster, the recipient of over 150 major journalism awards from the Milwaukee Press Club, the Wisconsin Associated Press, the Northwest Broadcast News Association, the Wisconsin Bar Association, and others. He has been seen and heard on Milwaukee TV and radio stations for over three decades. A longtime aide to state Senate Republicans in the Wisconsin Legislature, Kevin can be seen offering his views on the news on the public affairs program, "InterCHANGE," on Milwaukee Public Television Channel 10, and heard filling in on Newstalk 1130 WISN. He lives with his wife, Jennifer, and their lovely young daughter, Kyla Audrey, in Franklin.
THERE ARE THOUSANDS AND THOUSANDS OF
FOOD BLOGS, BUT ONLY ONE CULINARY NO-
NO!




Guy walks into a cocktail lounge and orders a drink. A vodka martini.

The bartender immediately begins his preparation.

He'll need …








A chilled glass.






Quality vodka.






The proper vermouth.




A shaker filled with ice cubes.


The vodka and vermouth are put together into the shaker that is shaken for at least 10 seconds...


And then poured. Add some...






And there you have it.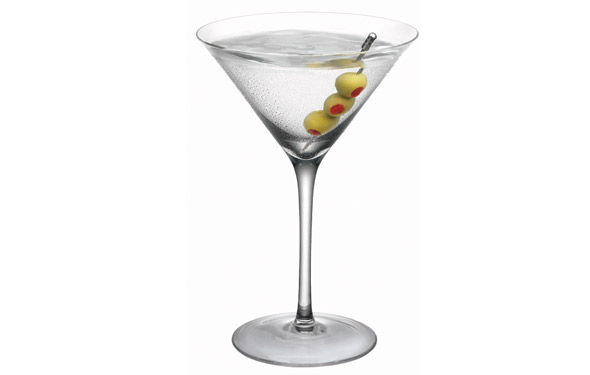 A classic martini.

Oh, I didn't mention that the cocktail lounge pictured above is the Seventy7 Lounge near Los Angeles, chosen randomly for this week's blog by the author.

On January 1 of this year, changes in the California Retail Food Code went into effect to prevent foodborne illnesses. The new law says "food employees shall not contact exposed, ready-to-eat food with their bare hands."

That means chefs have to wear these…







The LA Times reports "cooks must wear single-use gloves or use utensils when handling food such as sushi, bread, fresh fruit and vegetables and any cooked components of dishes that will be plated for customers."

Wolfgang Puck, the well-known CALIFORNIA chef just happens to be once again preparing food for the stars at the Oscars tonight.








See any gloves? Think the health police will give him a citation?

The glove legislation was signed into law by liberal California Governor Jerry Brown.








And chefs hate it.

"When I heard about it, I thought, 'No, you're joking.' This is terrible," said Roxana Jullapat, pastry chef at Cooks County.

"Who's saying gloves can't cause cross-contamination or can't get dirty? Outside or inside. Nothing good is happening in there where it's warm and sweaty. And I bet it's three months before a glove shows up in a salad."

"People get into the tendency to not wash their hands. And environmentally it's very unfriendly. It's funny that at the same time L.A. institutes a plastic bag ban, there's this," said Neal Fraser, chef-owner of BLD restaurant and Fritzi Dog."

That's liberal politics.
So what's this got to do with a martini? Can't you guess? Again, from the LA Times:

"Like chefs, bartenders have to wear gloves or use other utensils to make their drinks. No touching ice, fruit garnishes or anything else that goes directly into your glass.
"Technically speaking, these rules do apply to bars," says Angelica Pappas, a spokeswoman for the California Restaurant Assn."
Shaking your head yet in disbelief? Oh, there's more.

Just this past week, emergency legislation was announced to repeal the new law.

The unappetizing law should have never been approved in the first place.



CULINARY NO-NO BONUSES

Now on your restaurant bill: Obamacare fee


How America fell out of love with orange juice


This site uses Facebook comments to make it easier for you to contribute. If you see a comment you would like to flag for spam or abuse, click the "x" in the upper right of it. By posting, you agree to our Terms of Use.