Kevin Fischer is a veteran broadcaster, the recipient of over 150 major journalism awards from the Milwaukee Press Club, the Wisconsin Associated Press, the Northwest Broadcast News Association, the Wisconsin Bar Association, and others. He has been seen and heard on Milwaukee TV and radio stations for over three decades. A longtime aide to state Senate Republicans in the Wisconsin Legislature, Kevin can be seen offering his views on the news on the public affairs program, "InterCHANGE," on Milwaukee Public Television Channel 10, and heard filling in on Newstalk 1130 WISN. He lives with his wife, Jennifer, and their lovely young daughter, Kyla Audrey, in Franklin.

The Barking Lot is a regular weekly feature of This Just In…Written by my lovely wife, Jennifer and me. It opens with the weekend dog walking forecast followed by the main blog from dog lover, Jennifer. Then it's DOGS IN THE NEWS and our close. Enjoy!


THE WEEKEND DOG-WALKING FORECAST: We grade the weather outlook for taking your pet outdoors.

TODAY: Following last night's snow, an inch of snow this afternoon. An additional 1-2 inches tonight. High of 21. "F"

SUNDAY: Cloudy. High of 16. "F"


Here's my lovely wife, Jennifer with this week's main blog:
Remember last week when I talked about dogs and humans processing voice & emotions similarly? It's not the first time I've talked about the intellect and sensitivity of dogs, as you well know. It's amazing what dogs can tell us if we take the time to really listen:


Think that collar is science fiction? Think again. Oh wait, let your DOG think for you. And then you can translate exactly what's on his mind. This $80 gimmick seems like something you'd see only on an infomercial. I'm willing to bet more than a few units sold though! Are we really THAT desperate to decipher what our dogs are telling us? Seems most people have enough difficulty figuring out what the opposite sex has to say, much less an opposite SPECIES!
While I can't say for sure if "Bow Lingual" was any inspiration, a group of Swedish developers have invented "No More Bark." It's a doggy-worn headset that measures EEG patterns to determine if your pup is sad, hungry, or frustrated because the poodle next door won't give him the time of day. In the very beginning stages of testing, "with a $65 donation, supporters of the project had an opportunity to reserve beta versions of the gadget, programmed to distinguish between two to three thought patterns, such as tiredness, hunger and curiosity, and communicate them in English. Those who pledged as much as $600 will receive a higher-end model capable of translating more than four distinct thoughts and suitable for a number of different breeds, which the group concedes has proven to be quite difficult."
Sure. $65 gets you "I want to go out." Ten times that gets you "I want to go out, lift my leg (or squat), chase a rabbit and go home to eat your steak & baked potato dinner." Hmm… I'm not buying it – literally OR figuratively.
I think I'll stick to reading a dog behavior book, observing my pooch, and realizing that at the end of the day he's my four-legged friend who does what thousands of dogs have done for "thousands" of years… Enjoys a scratch behind the ear or a tummy rub, chews on my favorite slipper, drinks from the toilet when I'm not looking, eats expensive kibble, and loves me unconditionally. Honestly I don't need some strange head device to tell me that.
---Jennifer Fischer


Thanks, Jennifer!

Time now for DOGS IN THE NEWS, canines that made headlines the past week.


This was bound to happen.


What will happen to the stray dogs of Sochi?


Disabled woman sues nudist community over service dog.


Experts: Dogs feel no shame despite the look.


What makes an aggressive dog and how you can spot one.


Deanna is a hero.


How about that Caesar!


Frank: Tiny dog, big mission.


Puppy mill dogs walk on grass for the very first time.


Dog with cancer gets bucket list for final days.


Why dog lovers should see Mr. Peabody and Sherman.


OK, I'm not even going to try to explain. Just read.


THAT'S IT FOR DOGS IN THE NEWS.

HERE'S OUR DOG PHOTO (S) OF THE WEEK.


How Single Photographs Are Saving The Lives Of Shelter Animals Across The Country


Also...we combine some more photos with our closing video.



AP photo


The Most Adorable Thing in Baseball Is a Stray Dog Named Hank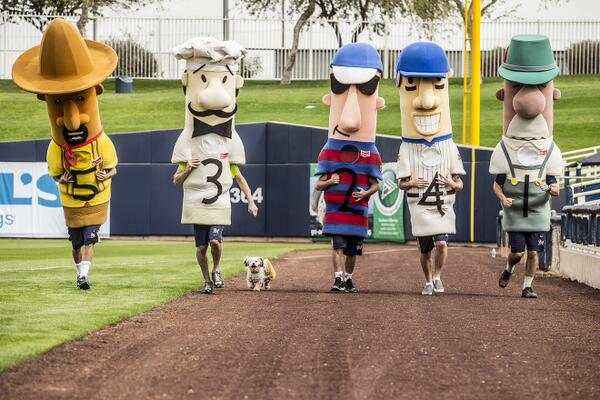 Brewer photo

Hank's popularity only continued to soar on Wednesday when the little guy made his debut in the Klement's Sausage Race while wearing an awesome hot dog costume.





That's it for this week. Please tell a fellow dog lover about us or send them this blog.

See ya, BARK, next week!
This site uses Facebook comments to make it easier for you to contribute. If you see a comment you would like to flag for spam or abuse, click the "x" in the upper right of it. By posting, you agree to our Terms of Use.