Kevin Fischer is a veteran broadcaster, the recipient of over 150 major journalism awards from the Milwaukee Press Club, the Wisconsin Associated Press, the Northwest Broadcast News Association, the Wisconsin Bar Association, and others. He has been seen and heard on Milwaukee TV and radio stations for over three decades. A longtime aide to state Senate Republicans in the Wisconsin Legislature, Kevin can be seen offering his views on the news on the public affairs program, "InterCHANGE," on Milwaukee Public Television Channel 10, and heard filling in on Newstalk 1130 WISN. He lives with his wife, Jennifer, and their lovely young daughter, Kyla Audrey, in Franklin.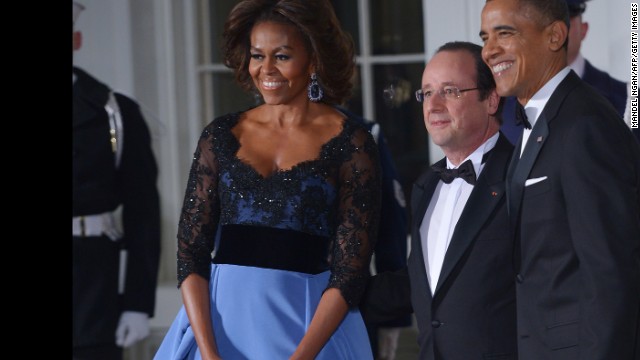 Tonight, President Obama hosted his French counterpart, Francois Hollande, at a state dinner, the first of his second term.
Among this year's invited guests were: J.J. Abrams, Bradley Cooper, Stephen Colbert, Julia Louis-Dreyfus, Jeff Zucker, president of CNN Worldwide, Defense Secretary Chuck Hagel, Supreme Court Justice Elena Kagan and Secretary of State John Kerry.
Guests dined on four courses of American-grown haute cuisine: osetra caviar and quail eggs, a winter salad "served in a wonderful glass bowl to make it look like a terrarium," Colorado-raised beef and a chocolate dessert sourced from Obama's native Hawaii.
Before the dinner, the White House released the names and vintages of the wines poured at each course -- a change from the last few state dinners, which listed only "American" bottles to avoid sticker shock for taxpayers.

State dinners at the White House are routine, a routine matter of historic protocol.

But there's been quite a mystery surrounding this and previous state dinners. Why all the secrecy?

There's been a lot of hush-hush surrounding these affairs.

Read more here.


This site uses Facebook comments to make it easier for you to contribute. If you see a comment you would like to flag for spam or abuse, click the "x" in the upper right of it. By posting, you agree to our Terms of Use.