Kevin Fischer is a veteran broadcaster, the recipient of over 150 major journalism awards from the Milwaukee Press Club, the Wisconsin Associated Press, the Northwest Broadcast News Association, the Wisconsin Bar Association, and others. He has been seen and heard on Milwaukee TV and radio stations for over three decades. A longtime aide to state Senate Republicans in the Wisconsin Legislature, Kevin can be seen offering his views on the news on the public affairs program, "InterCHANGE," on Milwaukee Public Television Channel 10, and heard filling in on Newstalk 1130 WISN. He lives with his wife, Jennifer, and their lovely young daughter, Kyla Audrey, in Franklin.
THERE ARE THOUSANDS AND THOUSANDS OF
FOOD BLOGS, BUT ONLY ONE CULINARY NO-
NO!
Classic cocktails have always been in style.


See above old fashioned where the best old fashioned in Milwaukee is arguably prepared. I wonder if it was mixed by my dear friend at the Packing House, Dawn Zaeske...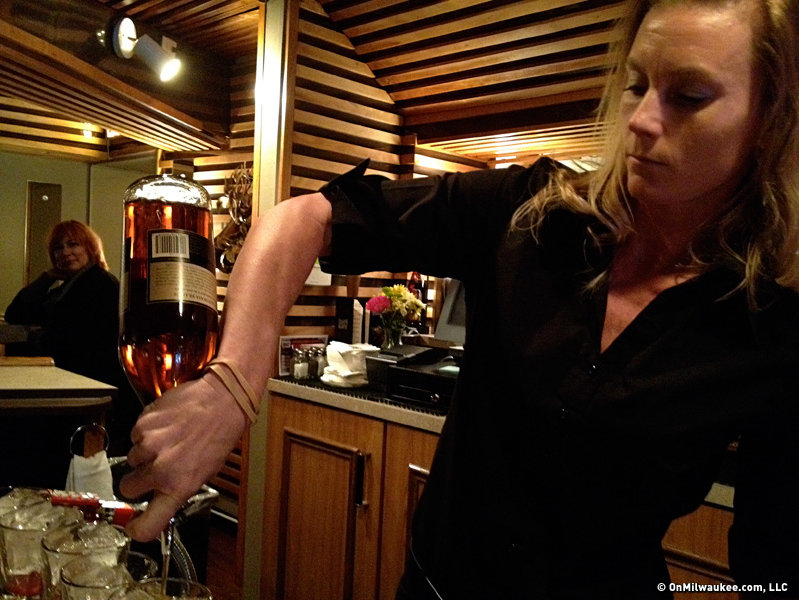 Maybe it was served to a customer by Delaney, pictured here with bartender Rick Michalik...






Dawn and Delaney call themselves the Double D's. They're both wonderful and if you visit the Packing House, and you should, and drop my name, please don't tell them anything nice you've read here. I will deny it.

While they've never gone away, classic cocktails have enjoyed from time to time a renaissance, a rebirth, with newer, more exciting twists.

Before I settled down, I took many a date to Milwaukee's best, yes, I said best cocktail lounge Bryant's. It's still as wonderful as it was decades ago. Bryant's solidifies the significance and popularity of the classic cocktail lounge that is timeless.

Check out this excerpt from a 2012 piece from GQ that lays out one of the prevailing cocktail trends:




Lots of tinkering and fooling with the basic classic formulas, as you'll notice, what with pyrotechnics, minerals, vegetables, etc.

Bartenders have tried for years to enhance cocktails, with the intent of upgrading and giving customers an experience they wouldn't forget. No news bulletin there. No trendy developments. The pattern has been going on for a long, long time.

But here's something definitely new.






There's been a wet bar revival in America.

Cool.

But as we've mentioned in the past on Culinary no-no, creativity can run amok. It can go too far. And ruin a really good thing.

In an effort to be creative, we lose all comprehension of common sense. And so we take the common cocktail that has worked for tons of years and we foolishly try to change it. The latest innovation is smoke.

National Public Radio reports the latest innovation is tobacco infused into cocktails.

"Take a sip of the Oaxacan Fizz at Father's Office in Los Angeles and you'll discover the unmistakable taste of tobacco. That's because this cocktail is sweetened with a small amount of tobacco-infused sugar syrup.
"A lot of people say, 'I only smoke when I drink,' says chef-owner Sang Yoon. 'We say, 'Now you can do both'."
Smoke? Tobacco? In an old fashioned? NEVER!

From Patch Magazine:

"Bartenders invented smoke guns to force an essence of char into a spirit. They began lighting rosemary on fire and all sorts of other oddball ways to make a drink taste like licking the cheek of a firefighter."

Yeh, that's really appetizing. The same article writes:

"Before noticing it was a thing, someone slid me an Old Fashioned made from booze infused with Cocoa Puffs cereal."

YUCK!

The links I've provided have shown really solid cocktails as well as those I wouldn't gargle with.

This reminds me of Culinary no-no #3 when we discussed dirty martinis.

Why must we, in the interest of cool, resort to duds?


CULINARY NO-NO BONUSES

Trying to lose weight? You're going about it all wrong.


The weight loss industry has a problem.

This site uses Facebook comments to make it easier for you to contribute. If you see a comment you would like to flag for spam or abuse, click the "x" in the upper right of it. By posting, you agree to our Terms of Use.