Kevin Fischer is a veteran broadcaster, the recipient of over 150 major journalism awards from the Milwaukee Press Club, the Wisconsin Associated Press, the Northwest Broadcast News Association, the Wisconsin Bar Association, and others. He has been seen and heard on Milwaukee TV and radio stations for over three decades. A longtime aide to state Senate Republicans in the Wisconsin Legislature, Kevin can be seen offering his views on the news on the public affairs program, "InterCHANGE," on Milwaukee Public Television Channel 10, and heard filling in on Newstalk 1130 WISN. He lives with his wife, Jennifer, and their lovely young daughter, Kyla Audrey, in Franklin.

"On pop music today: It's so sweet, I feel like my teeth are rotting when I listen to the radio."
Bono

It's Friday night. Time to unwind with our regular Friday night feature on This Just In.

The weekend has finally arrived.

The sun has set.

The evening sky has erupted.

Let's put controversy and provocative blogs aside for the rest of this work week and smooth our way into Saturday and Sunday.

Tonight, since we've been nostalgic for the past several weeks, we dip into some contemporary selections that fit the theme of our weekly Friday night installment. I would consider running out and buying any of these recordings. Then play them on as great background music.

Let's begin with classically trained guitarist Chris Standring and "Oliver's Twist," that combines a bossa nova beat DJ-type scratching and an acoustic guitar solo.






Next up, a smooth jazz studio supergroup led by saxophonist Kim Waters that performs current rap and R&B radio hits. They're called Streetwize and they've released their eighth album, "Feelin' Sexy." Here's their re-make of Robin Thicke's "Love After War."








Our next performer is a two-time Grammy Award winner, contemporary jazz guitarist Paul Brown.

Interesting note: Brown is a major tournament poker enthusiast who plays regularly throughout Los Angeles for high stakes.

Here he works his magic on the strings on "Montreux."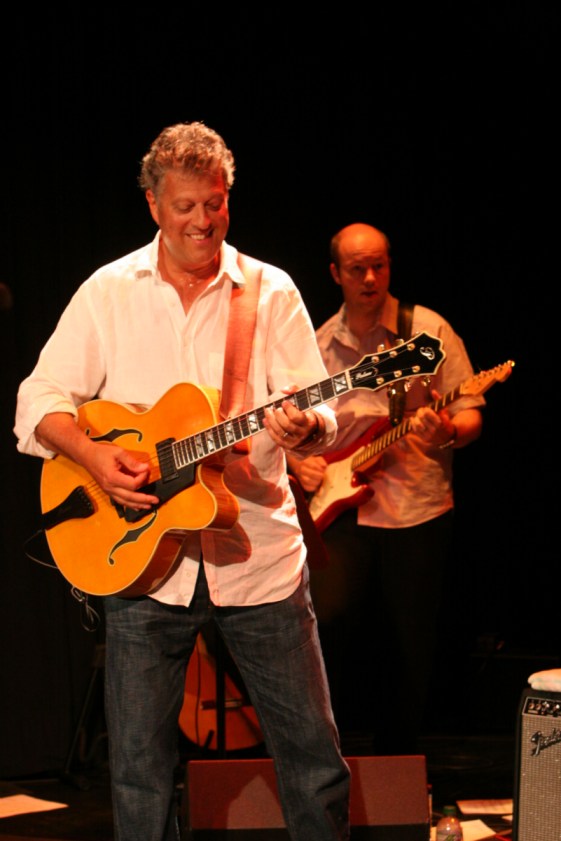 The online bio of our next guest says, "Since launching his recording career in 1977, David Benoit's expansive career as a contemporary jazz pianist and composer has included over 25 solo recordings. His '80s releases This Side Up, Freedom at Midnight and the GRAMMY-nominated Every Step of the Way are considered influential genre classics. His prolific output since 2000 includes several prominent Charlie Brown related projects (including Here's To You, Charlie Brown: 50 Great Years and the star-studded 40 Years: A Charlie Brown Christmas) that reflect his lifelong passion for the music of original Peanuts composer Vince Guaraldi and solidify Benoit's role as his musical heir."

Benoit's latest album is "Conversation" featuring the track "Feelin' It" with a distinctive Benoit style.






That's it for this week.

Goodnight.

Sleep well.

Have a great weekend.

We close with another guitarist, Marc Antoine. From his online bio:

"His parents bought him his first guitar when he was 11 years old which quickly became his third arm. Marc has had a guitar in his hands ever since. At age 13, his father saw such rapid progress that he sent him to the conservatory where he would study classical music. By then his mentors were Andres Segovia and John Williams. At 17 he'd already won many prizes and started showing an interest in a variety of music genres including jazz, rock , world , pop and more. At the same time he was playing in local bands in Britany (France). Tragedy struck in the summer of 1981 when his debut career got cut short by a devastating accident to his left hand. The surgeon told him that his chances of playing again were very slim and next to nothing. However, through the adversity, his love and passion for music helped him overcome this tragedy."

From Antoine's latest:


This site uses Facebook comments to make it easier for you to contribute. If you see a comment you would like to flag for spam or abuse, click the "x" in the upper right of it. By posting, you agree to our Terms of Use.