Kevin Fischer is a veteran broadcaster, the recipient of over 150 major journalism awards from the Milwaukee Press Club, the Wisconsin Associated Press, the Northwest Broadcast News Association, the Wisconsin Bar Association, and others. He has been seen and heard on Milwaukee TV and radio stations for over three decades. A longtime aide to state Senate Republicans in the Wisconsin Legislature, Kevin can be seen offering his views on the news on the public affairs program, "InterCHANGE," on Milwaukee Public Television Channel 10, and heard filling in on Newstalk 1130 WISN. He lives with his wife, Jennifer, and their lovely young daughter, Kyla Audrey, in Franklin.

THERE ARE THOUSANDS AND THOUSANDS OF
FOOD BLOGS, BUT ONLY ONE CULINARY NO-
NO!

This week on Culinary no-no:






Now don't get all hot and bothered. This isn't going to be some steamy tell-all. I will, however, make a bona-fide concession that involves food.

"Hey, Kev, you've blogged about how your wife inspired Culinary no-no with her preference of ketchup on brats. Recently you mentioned how you will sprinkle A-1 on your scrambled eggs and how some people may consider that a no-no. So, are there any other quirks in your diet that might fall under this Category? Inquiring minds want to know. Come clean, Kev!"

Fair enough. Now stay with me, Culinary no-no lovers.

About 15-20 years ago, I met a woman who was an authentic sweetheart, nicer than nice. As is so often the case, especially in this day and age, when a woman is the real deal, the significant other tends to be a real schmoe leading to the obvious observation: What'd she ever see in him ( I'm reading some of your minds and believe me, I begged Jennifer not to marry me, but would she listen?).

In this particular case, the woman's husband wasn't mean, cruel, or a bum. He was just a putz, a knuckle-dragger, a bit uncouth.

I recall the guy relating to me in front of his extremely deferential and saintly wife that there was a rule in their house. Ok, listen up, you wives reading and see how long you'd put up with this guy's demand.

Upon his arrival at home from work on Friday, there were to be at his recliner in front of the TV two of these...









Two of these...







And one of these...








When he walked in, when he sat down. She always cheerfully obliged.

Ever go out on a Friday night for dinner?

Nope.

No fish fries?

Nope.

She ever get to pick, the menu?

Nope.

For all I know this is still going on.






Chump!

What kind of hubby are ya?

Pick up your own fish sandwiches on the way home!

Can you believe that guy?

And way-too-nice-wife, when do you put your foot down and say, no more?

Fast forward to not too many weeks ago.

Alright, I know I'm overweight. My doctor has informed me I need to lose 20 pounds. But I'm quite the specimen for my age if I do say so myself.

My cholesterol has never been in question. It's been registered as low as 57, with 200 the worry point. When it started to creep upward, I made a conscious decision to cut back on a favorite of mine: Egg McMuffins, Sausage Egg McMuffins, Bacon Egg and Cheese Biscuits, any equivalents from Hardees, or a Croissantwich from Burger King.

No more indulging 3 times a week on McGreasies.

Then, as the Sandpipers sang decades ago, come Saturday morning.

Here's a guess that I'm like most humans that while diet-conscious to a certain degree feel they deserve a reward (cheating) if they've behaved themselves for an extended period. Early Saturday at the Fischer household, we're putting the finishing touches on blogs like "The Barking Lot" and "Week-ends."

While those blogs are in final production, lovely Jennifer now offers to make a weekly run, where else, but to the biggest culinary target on the planet…








The #1 priority is our Kyla who usually gets...







But Daddy never seems to say no.





So darling Jennifer, love of my life drives to 76th and Rawson to pick up my order at the Golden Arches, like clockwork, consistently, week after week.

Uh oh.

Rewind the tape.

Chump!

What kind of hubby are ya?

Pick up your own fish sandwiches on the way home!

Can you believe that guy?

And way-too-nice-wife, when do you put your foot down and say, no more?

I would submit the Fischer weekly ritual is not the same as the filet-o-fish fiasco.

Even so, my mind wanders to an old M*A*S*H episode. It's from the 11th and final season of the popular series. In "Strange Bedfellows," Hawkeye and B.J. deal with Winchester's allergy-induced bout of snoring. Later...







Winchester is having a conversation with...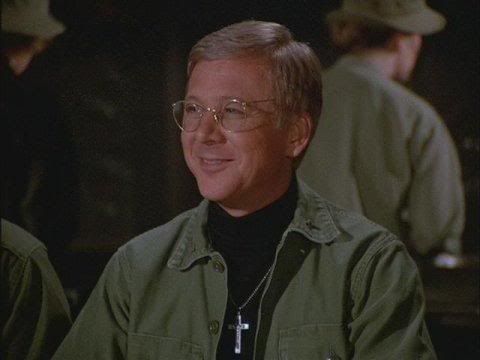 Father Francis Mulcahy.


Charles: I'm afraid there is the possibility—slim though it be—that I...snore.

Mulcahy: Snore. Oh. Good heavens, Major. What...courage it took to admit that.

Charles: Well, Father, I'm afraid you don't understand. See, all my life I've harbored a secret dread that I may not be worthy of my name, that I may not be good enough to be a Winchester. What if all this malarkey is true, that I do...snore like a common factory worker. What if that's just the tip of the iceberg? What if there are even more vulgar traits lurking just underneath the surface? Today...snoring. Tomorrow, sitting in front of a TV with a cold brew watching roller derby. What if—perish the thought—I am actually the same as everybody else? I couldn't live with that.

Mulcahy: Speaking as one whose ancestors were factory workers and who like roller derby and a good brew, do I understand you to say that if you can't be better that me, then there's no point in living?

Charles: Well, don't take it personally, Father.

Mulcahy: Why should I take it personally? By the way, did I ever tell you about the time I was thrown out of the seminary dorm for snoring?

Charles: Uh...

Mulcahy: The truth of the matter is you're not superior to any of us whether you snore or not.

Charles: Shh!

Mulcahy: And at times like this, I'm not even sure you're equal.

Indeed, what if there are even more vulgar traits lurking just underneath the surface? Perish the thought.

THE PRECEDING BLOG IS TRUE. NONE OF THE NAMES HAVE BEEN CHANGED TO PROTECT THE INNOCENT. THIS HAS BEEN A TRUE CONFESSION.


CULINARY NO-NO BONUSES

Organic not so good after all.


Eat them before they eat everything.


Restaurant automatically tacks on tip. Normally I have no complaint. But in this case...


Why do we waste food?



This site uses Facebook comments to make it easier for you to contribute. If you see a comment you would like to flag for spam or abuse, click the "x" in the upper right of it. By posting, you agree to our Terms of Use.