Kevin Fischer is a veteran broadcaster, the recipient of over 150 major journalism awards from the Milwaukee Press Club, the Wisconsin Associated Press, the Northwest Broadcast News Association, the Wisconsin Bar Association, and others. He has been seen and heard on Milwaukee TV and radio stations for over three decades. A longtime aide to state Senate Republicans in the Wisconsin Legislature, Kevin can be seen offering his views on the news on the public affairs program, "InterCHANGE," on Milwaukee Public Television Channel 10, and heard filling in on Newstalk 1130 WISN. He lives with his wife, Jennifer, and their lovely young daughter, Kyla Audrey, in Franklin.
The weekend has finally arrived.

The sun has set.

The evening sky has erupted.

Let's put controversy and provocative blogs aside for the rest of this work week and smooth our way into Saturday and Sunday….and this week, Monday.

Last Saturday, Hal David died at the age of 91. For many years he collaborated with Burt Bacharach to comprise one of the greatest songwriting teams of all-time.

Tonight, just a few of his many memorable compositions.

We begin with one of the best questions ever posed in pop music history.







Late 60's. Friday nights. You'd gather around the set to watch "This is Tom Jones" on ABC.

I recall my late Auntie Lucy would say, "Oh, I just love the way he moves!"

This next Bacharach-David classic was written in 1963. Dionne Warwick recorded it. So did actor Richard Chamberlain. Neither one had success. The super smash came when a brother-sister duo recorded it for Herb Alpert's A&M Records.





Next, think of Herb Alpert and you think of a trumpet and Tijuana Brass and a bouncy Latin sound. All of Alpert's first hits were instrumentals. He never sang until a TV special provided his first chance.

Hal David said, "He wanted to do our song on a TV special he was doing. It was a song he was going to sing to his wife, and the lyric was not quite appropriate for what he wanted to say. He asked us whether we could change it so it would fit what he needed. And I did; and he did it on the show and got a terrific reaction and recorded it. And it turned out to be a stunning hit!"

The song was Bacharach and David's very first #1 on the Hot 100.






It's been reported that Ursula Andress' performance in the 1967 spoof Casino Royale...







inspired Bacharach to write the music for "The Look of Love" and David later added the lyrics. Like just about any other Bacharach-David song, "The Look of Love" is timeless.

Conservative columnist George Will wrote a piece in March of 2002 about what he termed "welcome changes" six months after 9/11.

"The world has moved onward and, for now, upward, as Terry Teachout, the distinguished music critic, discovered in an epiphany at a Manhattan McDonald's. There a radio was playing music, and the music was neither rock nor rap. It was Diana Krall, the jazz singer, elegantly rendering 'The Look of Love.'
'Beauty,' Teachout wrote in early January, 'is becoming fashionable again.' Which means it has become mentionable again. The idea of beauty was another casualty of the silly socialization – 'Everything is relative' -- of the idea of relativity in physics. Beauty, like truth, was declared 'relative,' meaning 'socially conditioned' and a matter of opinion. Then, says Teachout, came Sept. 11's brutal reminder 'that some things aren't a matter of opinion.'
"When Teachout wrote that, Krall's 'The Look of Love' was eighth on Amazon.com's list of best-selling CDs. Two months later it is still high on the list, at 15th. It includes such standards as 'S'Wonderful,' 'Cry Me a River' and 'I Get Along Without You Very Well.'
"Are standards out of date? Certainly. They always are out of date. That, says playwright Alan Bennett, is why we call them standards."






From performingsongwriter.com:

"By late 1969, Burt Bacharach and Hal David were kings of the pop songwriting game. With over 20 Top 40 singles by their vocal muse Dionne Warwick, cover versions of their songs by an A-Z of artists including Dusty Springfield, Tom Jones and Ella Fitzgerald, movie soundtracks, TV specials and a Broadway musical, they'd done it all. But their biggest hit was just around the corner.

"In the summer of that year, Bacharach was writing the score for Butch Cassidy and the Sundance Kid, a film starring Paul Newman and Robert Redford as 1890s train robbers. Director George Roy Hill wanted something evocative of the period for a particular scene where Newman takes a romantic bike ride with Katherine Ross. Though Hill was initially opposed to the idea of a pop song with a lyric, Bacharach talked him into it.

'Raindrops' began in an uncharacteristic way. In the Bacharach and David songwriting partnership, roles were clearly defined. Burt wrote music, Hal wrote words. But this was an instance when Bacharach came up with the title.

'I kept singing that opening phrase,' he says. 'Even though Hal tried to change it, we never came up with a thing that felt as good. It must have been born the same time from the movie, and it made sense in my head. Hal made it make sense overall, though he tried some other ways first because it's not the most natural way maybe one would think to write that lyric. But that worked almost like a glove fitting. It sang great, fit great.'

'Hill agreed, so Bacharach and David set about finding the right singer'

The "right singer" turned out to be B.J. Thomas, performing here on the Ed Sullivan Show.












That's it for this week.

Goodnight.

Sleep well.

Have a great weekend.

From haldavid.com:

"Small wonder that Hal David has been honored for his way with words with every major award bestowed by the music industry, including 40 top 10 songs, numerous Grammys, the NARM Presidential Award, and the B'Nai B'rith Creative Achievement Award. He has also been elected to the Songwriter's Hall of Fame, and has been presented with their coveted Johnny Mercer Award, and is a member of the Nashville Songwriters Hall of Fame. Mr. David was awarded the prestigious Grammy Trustees Award by the National Academy of Recording Arts and Sciences. Hal David received the esteemed Ivor Novello Award from the British Performing Rights Society (the first non-British person to ever receive that award). Hal received a star on the famed Hollywood Walk of Fame in 2011, and it was announced that he and Burt Bacharach will be honored with the prestigious Gershwin Prize in the spring of 2012: the first collaborative team to be so honored."


Also...


"Most songwriters like to think they know when they have written a hit. I'm no exception.
"Years ago Burt Bacharach and I wrote a song that we thought we liked. After looking it over we decided that our original instinct was wrong. We put it away in our desk drawer and kept it hidden there for ten months-a flop, we thought.
"This was particularly disappointing to me. I had thought of the idea at least two years before showing it to Burt. The chorus section beginning with, 'What the world needs now' came quickly. However, after I finished with, 'No, not just for some but for everyone,' I was stuck. I kept thinking of lines like, 'Lord, we don't need planes that fly higher or faster...' and they all seemed wrong. Why, I didn't know. But the idea stayed with me.
"Then, one day, I thought of, 'Lord, we don't need another mountain,' and all at once I knew how the lyric should be written. Things like planes and trains and cars are man-made, and things like mountains and rivers and valleys are created by someone or something we call God. There was now a oneness of idea and language instead of a conflict. It had taken me two years to put my finger on it.
"When the idea came the lyric flowed with ease. As soon as Burt saw the lyric, the music seemed to flow as naturally. However, after our initial enthusiasm, we became disenchanted.
"Finally, a day came when we were short of songs for a recording session. We took the song out of the drawer. The singer loved it and so we recorded it. The song was 'What the World Needs Now Is Love.'
"Although we have over a hundred records of the song my favorite version is Dionne Warwick's. She always interprets my lyrics in a way that sounds as though she had written them herself."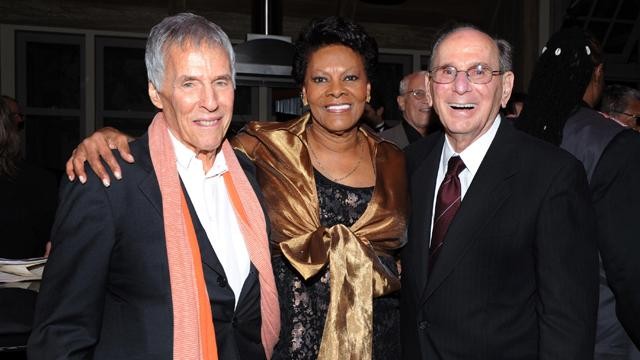 From Billboard's web site:

THE HAL DAVID TOP 50

Below is a list of Hal David's top 50 Hot 100 hits as a songwriter, based on chart performance. The ranking is based on actual performance on the weekly Billboard Hot 100 chart. Songs are ranked based on an inverse point system, with weeks at No. 1 earning the greatest value and weeks at No. 100 earning the least. To ensure equitable representation of the biggest hits from each era, certain time frames were weighted to account for the difference between turnover rates from those years.

01 Raindrops Keep Fallin' on My Head, B.J. Thomas (1970)
02 (They Long to Be) Close to You, Carpenters (1970)
03 This Guy's in Love With You, Herb Alpert (1968)
04 One Less Bell to Answer, The 5th Dimension (1970)
05 My Heart Is an Open Book, Carl Dobkins, Jr. (1959)
06 Slow Jamz, Twista featuring Kanye West & Jamie Foxx (2004)
07 To All the Girls I've Loved Before, Julio Iglesias and Willie Nelson (1984)
08 I Say a Little Prayer, Dionne Warwick (1967)
09 Blue on Blue, Bobby Vinton (1963)
10 The Look of Love, Sergio Mendes & Brasil '66 (1968)
11 What's New Pussycat?, Tom Jones (1965)
12 Only Love Can Break a Heart, Gene Pitney (1962)
13 Wishin and Hopin', Dusty Springfield (1964)
14 Walk on By, Dionne Warwick (1964)
15 (The Man Who Shot) Liberty Valance, Gene Pitney (1962)
16 Warning, The Notorious B.I.G. (1995)
17 Broken-Hearted Melody, Sarah Vaughn (1959)
18 What the World Needs Now Is Love, Jackie DeShannon (1965)
19 This Girl's in Love With You, Dionne Warwick (1969)
20 I'll Never Fall in Love Again, Dionne Warwick (1970)
21 Always Something There to Remind Me, Naked Eyes (1983)
22 Anyone Who Had a Heart, Dionne Warwick (1964)
23 Johnny Get Angry, Joanie Sommers (1962)
24 Do You Know the Way to San Jose, Dionne Warwick (1968)
25 Message to Michael, Dionne Warwick (1966)
26 Rain on Me, Ashanti (2003)
27 What the World Needs Now Is Love/Abraham, Martin and John, Tom Clay (1971)
28 I Say a Little Prayer, Aretha Franklin (1968)
29 Don't Make Me Over, Sybil (1989)
30 Wives and Lovers, Jack Jones (1964)
31 Alfie, Dionne Warwick (1967)
32 Don't Make Me Over, Dionne Warwick (1963)
33 Sea of Heartbreak, Don Gibson (1961)
34 Twenty-Four Hours from Tulsa, Gene Pitney (1963)
35 Promises, Promises, Dionne Warwick (1968)
36 True Love Never Runs Smooth, Gene Pitney (1963)
37 You'll Never Get to Heaven, The Stylistics (1973)
38 Make It Easy on Yourself, The Walker Bros. (1965)
39 The Look of Love, Dusty Springfield (1967)
40 Make It Easy on Yourself, Jerry Butler (1962)
41 Reach Out for Me, Dionne Warwick (1964)
42 Everybody's Out of Town, B.J. Thomas (1970)
43 Walk on By, Isaac Hayes (1969)
44 Casino Royale, Herb Alpert & Tijuana Brass (1967)
45 I Say a Little Prayer, Diana King (1997)
46 I Just Don't Know What to Do With Myself, Dionne Warwick (1966)
47 Trains and Boats and Planes, Dionne Warwick (1966)
48 Outside My Window, The Fleetwoods (1960)
49 Who Is Gonna Love Me?, Dionne Warwick (1968)
50 Always Something There to Remind Me, R.B. Greaves (1970)
This site uses Facebook comments to make it easier for you to contribute. If you see a comment you would like to flag for spam or abuse, click the "x" in the upper right of it. By posting, you agree to our Terms of Use.