Kevin Fischer is a veteran broadcaster, the recipient of over 150 major journalism awards from the Milwaukee Press Club, the Wisconsin Associated Press, the Northwest Broadcast News Association, the Wisconsin Bar Association, and others. He has been seen and heard on Milwaukee TV and radio stations for over three decades. A longtime aide to state Senate Republicans in the Wisconsin Legislature, Kevin can be seen offering his views on the news on the public affairs program, "InterCHANGE," on Milwaukee Public Television Channel 10, and heard filling in on Newstalk 1130 WISN. He lives with his wife, Jennifer, and their lovely young daughter, Kyla Audrey, in Franklin.

THERE ARE THOUSANDS AND THOUSANDS OF
FOOD BLOGS, BUT ONLY ONE CULINARY NO-
NO!










Oh, yeh, baby.

According to the National Hot Dog and Sausage Council, hot dog season ends on labor day having begun on Memorial Day. During that time, Americans gobble up 7 billion hot dogs or 818 hot dogs every second.







If you want a great hot dog, you've got to go to a Major League Baseball park. Good gracious, I don't know what it is, maybe the atmosphere, but they always seem to taste notches better at a ballgame, like Arlington Stadium where the Texas Rangers play.






If I could get 800 of my friends to help, I'd eat some of that.

Over at PNC Park in Pittsburgh ...






The Polish Hill Dog is an all beef footlong grilled and topped with mini potato pierogies, coleslaw and homemade onion straws served on a potato roll.

Personally, I'd prefer the slaw on the side, but that looks mighty good!

At Busch Stadium in St. Louis...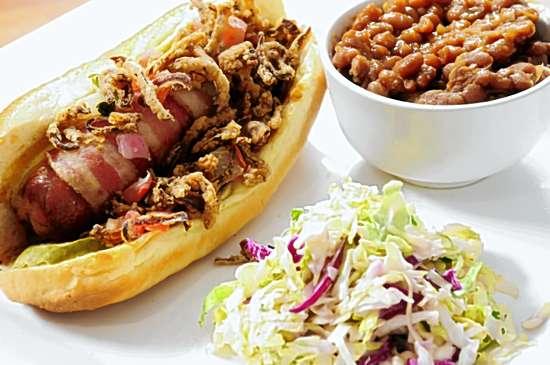 The Cardinals offer a Jumbo Hunter Dog wrapped with bacon served on a fresh Fazio's bun with baked beans, a dill pickle slice and topped with pico de gallo, Dijon aioli, Sweet Baby Ray's original barbecue sauce, and tobacco onions. Baked beans and slaw are served alongside.

So far, Doppler Radar does not detect a no-no. But then again, regular readers know you sometimes have to get to paragraph 87 before there's even a hint of an infraction.

Let's face it. Just about anything goes when it comes to a hot dog, with the obvious exceptions of M & Ms, cinnamon, Lucky Charms, caramel sauce, whipped cream, maraschino cherries, waternelon, anchovies, peanut butter, tartar sauce, licorice sticks, lima beans, etc.

We move on.

During my exhaustive research fro this week's installment, I called upon a resource I occasionally depend on for important guidance.

I asked my darling wife, Jennifer, "Darling wife, Jennifer, you like hot dogs. What is your preferred beverage to go with? What would be a great pairing?"

Her first response was beer.

"What kind of or particular beer?"





"What else?"






"A vodka lemonade."

Interesting.

Thus far, dear Jennifer has suggested beer and a lemony cocktail.

Hmmm.

The ribs/bbq-focused blog, www.amazingribs.com says this about beverage pairings with dogs:


"So what are the dominant flavors of a hot dog? In the frank itself, salt, garlic, spices, and beef are strong. Chili dogs can be heavily spiced, usually with Greek flavors such as cinnamon, allspice, and nutmeg. In the condiments, the sharpness of the onion and mustard are factors. So are the acidity of the kraut, pickle, peppers. Relish and slaw are sweet. French fries are fatty and salty.

"Nothing balances saltiness like beer. Among beers, I prefer ales because they tend to be richer than lagers and a little sweet. The local brews are always my first choices.

"The carbs of the bun and fries do a good job of absorbing the sharpness of mustard, so I look for sweetness to further tame things. Lemonade is a winner, countering the salt and spice nicely."


And then my bride offered another possibility, a Vinho Verde.

Say what?

Dearest Jennifer who is the sommelier in our house explained. Vinho Verde is typically a budget-friendly, low-alcohol white wine from Portgual. It's crisp, it's dry, and captures a light fizz by injecting carbonation, sort of like a soft drink.













Yes, I totally agree with World Wrestling Entertainment star Vicki Guerrero, shrill voice and all.

EXCUSE ME!

Wine?

Vino?

With a frankfurter?

EXCUSE ME!

EXCUSE ME!

Alright, let's see what that ribs blog says about that.

"I favor the pink wines, sometimes called rosé, blush, or blanc de noir wines. They usually have a hint of sweetness, and often a slight fizziness. Gewurztaminer, which is spicy like the frank, is also a nice accompaniment."

OK. Wine with hot dogs. I don't get it, but I'll listen to the experts. My guess given that I don't have completely pedestrian swill-like tendencies is that if you're going to imbibe in the grape with a dog, there must be a right way and wrong way.

This is above my pay grade so to learn the proper wine-weiner pairings we turn to Ray Isle. Isle happens to be Food and Wine's executive wine editor.

Bon Appetit and Salut!


CULINARY NO-NO BONUS

I missed it. August 8 was…






"Sneak Some Zucchini Onto Your Neighbor's Porch Day."

I'm not kidding. Makes sense to me.

Way back on September 16, 2007, I blogged Culinary no-no #17:

Around this time of the year, they come out of the woodwork like mosquitoes and footballs. I'm talking about zucchini.

From Blork.org, a blog about food, Montreal, and the author:

Too much zucchini?

I accidentally bought two bags of zucchini at the Jean-Talon Market on Sunday. So we're going zucchini crazy. Sunday evening we had that caprese salad with grilled zucchini, and Monday night we had an awesome cream of zucchini soup (very mildly curried) along with a leek tart (made from market leeks).

Today I had leftover zucchini soup for lunch, and tonight we had a huge pile of grilled zucchini (and grilled red peppers and grilled onions) with our barbequed pork loin (that had a honey/mustard/balsamic "crust"). Tomorrow's dinner will be more leftover zucchini soup and pizza with (leftover) grilled zucchini, peppers, and onions. And after that we'll still have about four zucchinis left.

I suppose I could always make a rata- rattatu- ratooto– that thing with zucchini and eggplant that I can't spell and can't even say right (I call it rat-a-tat-tooie or ratta-ka-blooie).

Abundance. Love it while you have it.....


Zucchini.

They're so plentiful, they're like weeds. Wake up one morning and your living room rug is full of them.

Go out to your car, open your glove compartment…sure enough. You've got zucchini.

Bring out the fall jackets and coats. Check the pockets. You've got zucchini.

Someone will die and send the damn stuff to you in their will.

Culinary no-no: this time of year, don't buy zucchini. Don't take any off the hands of an apparent good-hearted neighbor. Resist the temptation to stop at a roadside stand and purchase a bag to take home.

Somehow, someway, you will find zucchini or zucchini will find you.

Baskin Robbins has 31, Heinz has 57, but there aren't enough ways to get rid of that doggone zucchini, so run, don't walk when you come within a mile of the stuff.

Like the energizer bunny or a pack of rabbits, that green vegetable will keep coming, and coming, and coming, and coming…

That was Culinary no-no #17.

USA WEEKEND claims there are all kinds of ways to prepare zucchini. You be the judge as to how appetizing they are.


MORE BONUSES

Check your change at Chipotle


It looks good and it might taste good, but...


What do Swedes think of the Swedish Chef?
This site uses Facebook comments to make it easier for you to contribute. If you see a comment you would like to flag for spam or abuse, click the "x" in the upper right of it. By posting, you agree to our Terms of Use.