Kevin Fischer is a veteran broadcaster, the recipient of over 150 major journalism awards from the Milwaukee Press Club, the Wisconsin Associated Press, the Northwest Broadcast News Association, the Wisconsin Bar Association, and others. He has been seen and heard on Milwaukee TV and radio stations for over three decades. A longtime aide to state Senate Republicans in the Wisconsin Legislature, Kevin can be seen offering his views on the news on the public affairs program, "InterCHANGE," on Milwaukee Public Television Channel 10, and heard filling in on Newstalk 1130 WISN. He lives with his wife, Jennifer, and their lovely young daughter, Kyla Audrey, in Franklin.

"As always, should you or any of your I.M. Force be caught or killed, the Secretary will disavow any knowledge of your actions. This tape will self-destruct in five seconds. Good luck..."
From the TV series, "Mission Impossible."


It's Friday night. Time to unwind with our regular Friday night feature on This Just In.

The weekend has finally arrived.

The sun has set.

The evening sky has erupted.

Let's put controversy and provocative blogs aside for the rest of this work week and smooth our way into Saturday and Sunday.

Tonight……..suspense……intrigue.

Being the nostalgic gent that I am, it's cool to see more TV channels popping up replaying great detective TV shows like I Spy, The Man From U.N.C.L.E., It Takes a Thief, Mannix, Hawaii Five-O, and Peter Gunn.

Keep them coming. I'd love to see Hawaiian Eye, Burke's Law, etc.

Like the characters and plots, the theme music from some of these old programs is just as enduring. Tonight's music is stepped up a notch from the usual smooth and relaxing mode, but still, I believe, satisfies.

We begin with noted composer, pianist and conductor Lalo Schifrin. You may have seen his name in numerous TV closing credits. From his bio on his website:

"Lalo Schifrin is a true Renaissance man. As a pianist, composer and conductor, he is equally at home conducting a symphony orchestra, performing at an international jazz festival, scoring a film or television show, or creating works for the Los Angeles Chamber Orchestra, the London Philharmonic and even The Sultan of Oman.As a young man in his native Argentina, Lalo Schifrin received classical training in music, and also studied law. He came from a musical family, and his father, Luis Schifrin, was the concertmaster of the Philharmonic Orchestra of Buenos Aires at the Teatro Colon.
Lalo Schifrin continued his formal music education at the Paris Conservatory during the early 1950's. Simultaneously, he became a professional jazz pianist, composer and arranger, playing and recording in Europe.
When Schifrin returned to Buenos Aires in the mid 1950's, he formed his own big concert band. It was during a performance of this band that Dizzy Gillespie heard Schifrin play and asked him to become his pianist and arranger. In 1958, Schifrin moved to the United States and thus began a remarkable career.
He has written more than 100 scores for films and television. Among the classic scores are 'Mission Impossible,' 'Mannix,' 'The Fox,' 'Cool Hand Luke,' 'Bullitt,' 'Dirty Harry,' 'The Cincinnati Kid,' and 'Amityville Horror.'

He was commissioned to write the Grand Finale for an event which took place in Caracalla, Italy, July 7th, 1990, to celebrate the finals of the World Cup Soccer Championship. In this concert, the Three Tenors, Luciano Pavarotti, Placido Domingo and Jose Carreras sang together for the first time."

Here, Schifrin performs with the BBC Big Band.

I think you'll recognize the theme.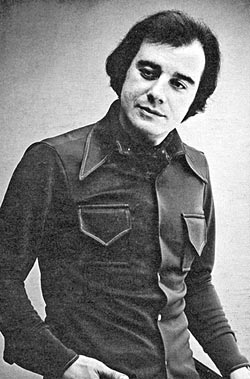 Good stuff.

In my view, the greatest TV theme song of all-time is Peter Gunn written by the great Henry Mancini. We hear it from a talented musician and producer.

Eumir Deodato was born in Rio de Janeiro, Brazil, from Italian and Portuguese origin. A distant relative of Enrico Caruso, Deodato began playing the accordion at age 12. Then he began studying piano and orchestration, arranging and conducting, by himself, through books and observation and spending many evenings sitting behind orchestras and watching how they played.

At age 17, he arranged and conducted his first recording session for a 28-piece orchestra. Soon after, Deodato became a respected arranger and pianist in Rio's busy music scene during the bossa-nova era.

He would later do studio work for Astrid Gilberto, Walter Wanderley, and Antonio Carlos Jobim, all of whom have been featured during our Goodnight feature. Deodato would also arrange for Sinatra, Roberta Flack ("Killing Me Softly", "Chapter Two", "Quiet Fire"), Aretha Franklin ("Let Me In Your Life") and others.

But his musical explosion came with the tremendous success of his version of "Also Sprach Zarathustra", better known as "2001: A Space Odyssey." The single sold over 5 million copies in the early 70's.

Deodato also worked extensively as a producer. One of his first works was Kool and The Gang's "Celebration." He has amassed 16 platinum records with combined sales of well over 25 million records in the USA alone. His discography totals over 450 albums.

His rendition of "Peter Gunn" is mighty nice.



From the album....




As much as I love that theme (it's the best), the most popular and most recognizable might belong to a more suave and sophisticated chap...

Bond.

James Bond.

James Bond is Ian Fleming's famous character.

Plain old Bond is an Australian/British string quartet that specializes in classical crossover music. The group has been called the best selling string quartet of all time, selling over four million records. Members include Elspeth Hanson (first violin, from Upper Basildon, England), Eos Chater (second violin, from Cardiff, Wales), Tania Davis (viola, from Sydney) and Gay-Yee Westerhoff (cello, from Hull, England). Hanson replaced original band member Haylie Ecker, when she left to have a baby.

Here's Bond doing the Bond theme during a concert in 2000 at the Royal Albert Hall.








Yes, I can certainly see why they are Bond girls.

That's it for this evening.

Thank you for tuning in.

We close with an appropriately titled smooth piece from Brian Hughes.

And by the way, Sean Connery turns 82 years old on Saturday.

Goodnight.

Sleep well.

Have a super weekend.


This site uses Facebook comments to make it easier for you to contribute. If you see a comment you would like to flag for spam or abuse, click the "x" in the upper right of it. By posting, you agree to our Terms of Use.