Kevin Fischer is a veteran broadcaster, the recipient of over 150 major journalism awards from the Milwaukee Press Club, the Wisconsin Associated Press, the Northwest Broadcast News Association, the Wisconsin Bar Association, and others. He has been seen and heard on Milwaukee TV and radio stations for over three decades. A longtime aide to state Senate Republicans in the Wisconsin Legislature, Kevin can be seen offering his views on the news on the public affairs program, "InterCHANGE," on Milwaukee Public Television Channel 10, and heard filling in on Newstalk 1130 WISN. He lives with his wife, Jennifer, and their lovely young daughter, Kyla Audrey, in Franklin.

Good for you, Mr. President?

There is nothing wrong with your computer, this blog, or this blogger.

You read correctly.

For Barack Obama, the last few days must have been extremely liberating, like having handcuffs removed.

Free to snack on whatever he desired, he took full advantage.

Take Tuesday…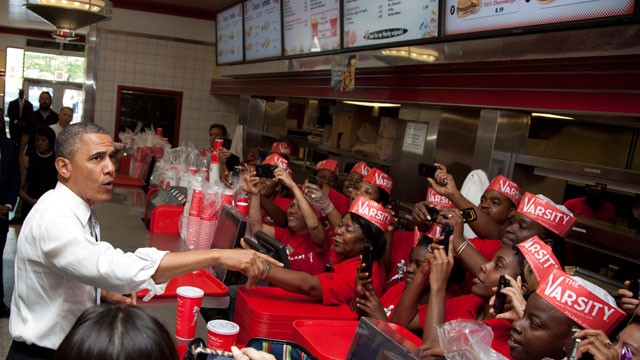 President Barack Obama places an order at The Varsity restaurant, Tuesday, June 26, 2012, in Atlanta. (AP Photo/Carolyn Kaster)


The Varsity is considered to be the oldest, largest fast food joint in America.




Burgers, fries, onion rings, you know the whole greasy menu. The President ordered hot dogs, chili dogs, and a hamburger for him and his staff.

The day before…

Photo: Politico.com


It was a hot fudge Sundae at an ice cream shop on the campus of the University of New Hampshire.

Again, I repeat...

Way to go, Mr. President!

Way to let loose and enjoy yourself.

I even feel a bit sorry for you.

Why?

Because.






What in the world is she going to do when she finds out?
This site uses Facebook comments to make it easier for you to contribute. If you see a comment you would like to flag for spam or abuse, click the "x" in the upper right of it. By posting, you agree to our Terms of Use.