Kevin Fischer is a veteran broadcaster, the recipient of over 150 major journalism awards from the Milwaukee Press Club, the Wisconsin Associated Press, the Northwest Broadcast News Association, the Wisconsin Bar Association, and others. He has been seen and heard on Milwaukee TV and radio stations for over three decades. A longtime aide to state Senate Republicans in the Wisconsin Legislature, Kevin can be seen offering his views on the news on the public affairs program, "InterCHANGE," on Milwaukee Public Television Channel 10, and heard filling in on Newstalk 1130 WISN. He lives with his wife, Jennifer, and their lovely young daughter, Kyla Audrey, in Franklin.

The Barking Lot is a regular weekly feature of this just in…Written by my lovely wife, Jennifer and me. It opens with the weekend dog walking forecast followed by the main blog from dog lover, Jennifer. Then it's DOGS IN THE NEWS and our close. Enjoy!


THE WEEKEND DOG-WALKING FORECAST: We grade the weather outlook for taking your pet outdoors.

TODAY: Not a great weekend. Rain and a high of 41. "F"

SUNDAY: Mostly sunny. Still unseasonably cool. High of 52. "D"


Here's my lovely wife, Jennifer with this week's main blog:


I have suffered with seasonal (and some animal-related) allergies for most of my life. I have taken prescription medications but have not needed to resort to regular shots to control the sneezing, itchy watery eyes, etc. While it is something I have learned to live with from May until the first frost, it's not always pleasant. Kevin has never known what it is like to deal with this, and I sincerely hope little Kyla never learns either.
There isn't much I can do to control trees and pollen. Fortunately, most of my animal-related allergic reactions are to horses believe it or not. Since we don't have anyone in the family who is a farmer or jockey, I'm usually off the hook with that. Visit the State Fair? No way! But really I don't feel left out. I figure I can always deep fry a Twinkie and put it on a skewer in my own home if the mood strikes me.
Horses? Naaaa-yyy to owning one. But dogs? Now you're barking up a different tree. There is no chance I'll let a problematic proboscis get in the way of a future Fido.
Each year, the Asthma and Allergy Foundation of America (AAFA) declares May to be "National Asthma and Allergy Awareness Month". There are varying opinions as to whether hypoallergenic dogs really exist.
Some consider an allergy-free dog to be a myth.

The American Kennel Club highlights nearly a dozen breeds that are, supposedly, better for sensitive sniffers.

Of course the previously mentioned AAFA offers their perspective as well.

Obviously each individual is willing to put up with different levels of discomfort. If owning a dog would send one of my family members in to anaphylactic shock then sure, I'd reconsider. But for me, I'll gladly take daily medication in order to say, "Come here, Remy, time to get your lead and go for a walk!"
---Jennifer Fischer

Thanks, Jennifer. Time now for DOGS IN THE NEWS, canines that made headlines the past week.


Nationwide effort seeks to ban dog sales in San Clemente.


High-tech vet clinic at Texas A & M draws praise.


Dog stairs help Fido get back in the boat.


Microchips panned overseas.


Good Samaritan saves dogs from slaughter.


Should your dog be watching TV?


The value of three-legged dogs.


Doc helps returning veterans.


"It was a miracle."


Air man's dogged pursuit.


They actually did a study on this: Your dog wants your food.


In New York, in the dog house.


Dogs get first-class wedding bash.


THAT'S IT FOR DOGS IN THE NEWS.

NEXT, OUR DOG PHOTO OF THE WEEK, AND WE HAVE A FEW.






In our news segment above, we told you about the Texas A and M clinic. In the above photo, Bo the dog is anesthetized for his radiation treatment in the TomoTherapy unit at Texas A&M's Veterinary Medicine College in College Station, Texas. Photo: Karen Warren / Houston Chronicle via AP.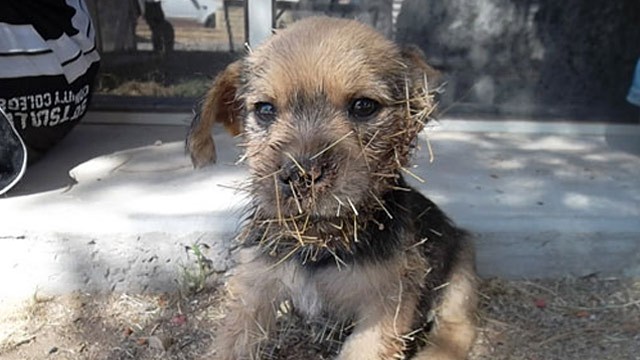 An 8-week-old puppy Yorkie-Terrier mix, now known as Cactus Jack, was found in a cactus and is up for adoption at the Arizona Humane Society. Photo: Arizona Humamne Society.







Tyson, owned by Tyler and Chelsea Motter, of Urbandale, Iowa, sits on the throne after being crowned the winner of the 33rd annual Drake Relays Beautiful Bulldog Contest Monday, April 23, 2012, in Des Moines, Iowa.

And finally, we close with our closing dog video, Thanks for stopping by.

This site uses Facebook comments to make it easier for you to contribute. If you see a comment you would like to flag for spam or abuse, click the "x" in the upper right of it. By posting, you agree to our Terms of Use.