Kevin Fischer is a veteran broadcaster, the recipient of over 150 major journalism awards from the Milwaukee Press Club, the Wisconsin Associated Press, the Northwest Broadcast News Association, the Wisconsin Bar Association, and others. He has been seen and heard on Milwaukee TV and radio stations for over three decades. A longtime aide to state Senate Republicans in the Wisconsin Legislature, Kevin can be seen offering his views on the news on the public affairs program, "InterCHANGE," on Milwaukee Public Television Channel 10, and heard filling in on Newstalk 1130 WISN. He lives with his wife, Jennifer, and their lovely young daughter, Kyla Audrey, in Franklin.

The following appears in the latest edition of the Wisconsin Conservative Digest and is re-printed here with permission of the publisher.

A year of restoring fiscal discipline and fighting Obamacare
By Wisconsin Governor Scott Walker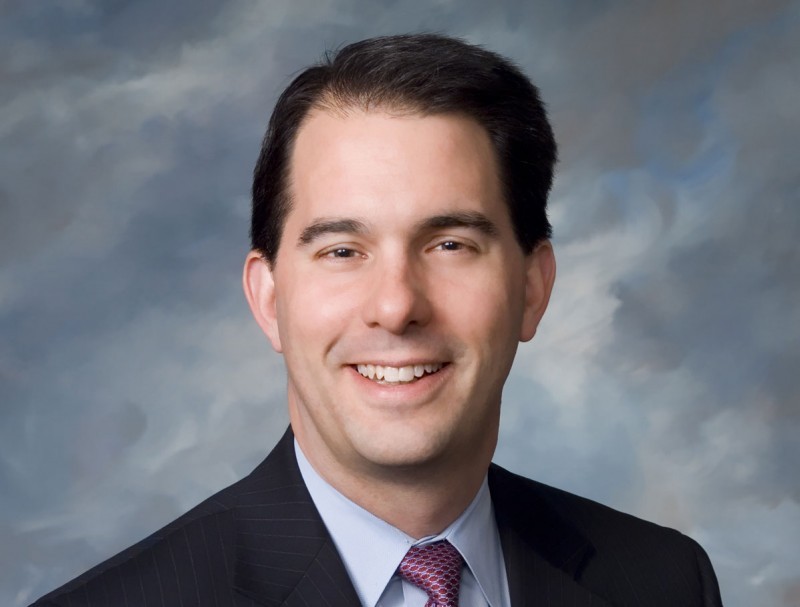 Together we have done a lot to restore fiscal discipline and stop the implementation of ObamaCare in Wisconsin over the last year.

When I was inaugurated the State of Wisconsin faced a $3.6 billion deficit because we were spending a lot more than we were taking in. Wisconsin was not alone. Plenty of other states around the country faced a similar deficit. While other states relied on massive layoffs and tax increases, we took a different approach. I was not interested in taking away people's hard-earned money, nor did I like the idea of devastating families through layoffs. I also wasn't interested in sending the burden of more debt down the line to my boys and their generation.

Instead, we asked public employees to contribute to their own pension and healthcare plans. While it was a bold political move, what we were asking for was actually modest in comparison to private sector employees. We asked government workers to make a 5.8% contribution to their pensions and a 12.6% contribution to their health insurance premium; about half of what those in the private sector contribute.

We made the structural reforms necessary to eliminate our state's deficit and allow local units of government to balance their budgets.

The reforms we put in place are working for taxpayers all across Wisconsin. Take a look at Kaukauna Area School District—it was facing a $400,000 deficit. Because of the reforms they turned this deficit into a $1.5 million surplus, reduced class sizes, and even had enough money to set aside for merit pay bonuses for exceptional teachers. Or look at the city of Milwaukee, which used the reforms to save taxpayers $25 million and balance their budget.

In addition to eliminating the deficit we've also fought hard to oppose ObamaCare and the negative impact it would have on small businesses. We need to end the federal government's encroachment on our state's rights. If implemented ObamaCare would eliminate jobs and cost small businesses $830 million in lost sales revenue according to the National Federation of Independent Business.

That is why, on my first day in office, I directed Wisconsin Attorney General J.B. Van Hollen to join the multi-state lawsuit challenging the constitutionality of this overreaching measure. This lawsuit is currently scheduled to be heard by the United States Supreme Court with a decision expected by early next summer. My sincere hope is that this measure will be found to be unconstitutional and that our state's ability to maintain control over our health insurance market will be preserved.

I remain opposed to the implementation of Obamacare in our state, and will continue to fight for healthcare policies that encourage personal responsibility, help those who are truly in need, and are ultimately based on the free market.

Wisconsin has a bright future. Because of tough decisions made over the last year we are well on our way to passing our state on to the next generation better off than we received it. During my inauguration I read directly from the Wisconsin Constitution Article I, Sec. 22 which states: "The blessings of a free government can only be maintained by a firm adherence to justice, moderation, temperance, frugality, and virtue, and by frequent recurrence to fundamental principles." It is through frugality and moderation in government that we will see freedom and prosperity for our state.

We have done a lot in a year, but we have more work to do. These founding principles can be reaffirmed by continually challenging the status quo, while always remembering that it is more important to think of the next generation than the next election.


Give $25 or Get 25 Digests!!

About this time, after the elections, is when conservatives go to sleep, zip up their billfolds and say: "We elected them do all of the hard lifting." That is why we win battles and lose wars. The campaigns must go on. Conservatives have to keep working and keep giving. Politics is a blood sport; we have seen that in Madison this past year.


Ronald Reagan said once: "When you pull all of those snouts away from the trough you are going to get a lot of oinking." That is what is happening. The left is apoplectic. They might lose 25% or more of their contributions. That can kill some of them. The left lives off the rest of us. Public employees and many public agencies depend on our money, tax money, to pay for their political activities. We Conservatives must go out and get money from hard working people. Most of the rich people have become liberals. Conservatives are the people that are out there every day busting their butts.


Please help us organize: Send us $25 or send us a request to get 25 of the new Conservative Digests. Distribute them to libraries, coffee shops, organizations, meetings, and friends. Join our e-mail lists and get immediate updates on what is happening in Madison and DC. Then you can help by hollering, sending letters, calling your local newspaper editors and talk shows. This is a fight for the future.

Do you want to see the future become that of the leftwing visions? Or do you want a future for our kids that includes, personal freedoms, property rights, low taxes, and better jobs and salaries, homes and lives?


It is your choice: Help!!


Bob and Jean Dohnal, Publishers/Editors, Wisconsin Conservative Digest
11324 W. Potter Rd.
Wauwatosa, WI 53226-3407
(414) 258-1719
Name__________________________
Email__________________________
Address________________________
Contribution__________________
Distribution#___________________
Phone________________________
This site uses Facebook comments to make it easier for you to contribute. If you see a comment you would like to flag for spam or abuse, click the "x" in the upper right of it. By posting, you agree to our Terms of Use.