Kevin Fischer is a veteran broadcaster, the recipient of over 150 major journalism awards from the Milwaukee Press Club, the Wisconsin Associated Press, the Northwest Broadcast News Association, the Wisconsin Bar Association, and others. He has been seen and heard on Milwaukee TV and radio stations for over three decades. A longtime aide to state Senate Republicans in the Wisconsin Legislature, Kevin can be seen offering his views on the news on the public affairs program, "InterCHANGE," on Milwaukee Public Television Channel 10, and heard filling in on Newstalk 1130 WISN. He lives with his wife, Jennifer, and their lovely young daughter, Kyla Audrey, in Franklin.

"His kind of music is deplorable, a rancid smelling aphrodisiac. It fosters almost totally negative and destructive reactions in young people."
Frank Sinatra, in Elvis' early days. The two would later become good friends.


It's Friday night. Time to unwind with our regular Friday night feature on This Just In.

The weekend has finally arrived.

The sun has set.

The evening sky has erupted.

Let's put controversy and provocative blogs aside for the rest of this work week and smooth our way into Saturday and Sunday.

Tonight, we pay homage to the King, Elvis Presley who would have been 77 years old this Sunday. He died at the age of 42 in 1977.
Mention Elvis and most immediately think of numbers like Jailhouse Rock, Hound Dog, Don't be Cruel, Heartbreak Hotel, Burning Love. But the Presley library is much, much more.

Some Internet sources claim Elvis produced between 665 and 711 recordings. I've been an Elvis fan ever since my older brother took me to Piasecki's record store on Mitchell Street and I bought "Devil in Disguise," and I know I haven't heard all 700.

Elvis.com reports, "Elvis has had no less than 149 songs to appear on Billboard's Hot 100 Pop Chart in America. Of these, 114 were in the top forty, 40 were in the top ten, and 18 went to number one. His number one singles spent a total of 80 weeks at number one. He has also had over 90 charted albums with ten of them reaching number one. These figures are only for the pop charts and only in America. He was also a leading artist in the American country, R&B, and gospel fields, and his chart success in other countries was substantial."
Let's open that massive vault by going to the movies. Elvis' most memorable leading lady performs this nice duet in "Viva Las Vegas."








"The Lady Loves Me" was not released on the soundtrack album, but RCA did issue it on other albums years later.
In 1994, Ann-Margret authored a book in which, naturally, she wrote about the King. The New York Times wrote:

"Elvis (or E.P., as she calls him) wooed her with guitar-shaped flower arrangements whenever she opened in Las Vegas, Nev., even after her marriage to the actor Roger Smith. Pre-Roger, the king of rock-and-roll bought her a round pink bed for her apartment in Beverly Hills. And together, just to amuse Elvis's entourage, they'd cat-dance across the floor, with Elvis growling, 'You've got me running,' and Ann-Margret snarling, 'You've got me hiding.'
And then there is Elvis, the man she saw as her mirror image. 'We both felt a current, an electricity that went straight through us,' she writes of her co-star in 'Viva Las Vegas.' 'It would become a force we couldn't control.' Never once, though, does she mention Priscilla, Elvis's fiancee at the time.
Why not? 'She wasn't here,' she replies, referring to Los Angeles, and then shoots a dagger look. Apparently, the jealousy was mutual. In 'Elvis and Me' (G. P. Putnam's Sons, 1985) Priscilla Beaulieu Presley wrote that when she learned of the seriousness of the liaison between Elvis and Ann-Margret, she 'picked up a flower vase and threw it across the room, shattering it against the wall'."
Next, another song you may have never heard but it demonstrates the fine voice Elvis possessed.


No, "Echoes of Love" was NOT in the movie, "Kissin' Cousins." It was inserted as what RCA called a "bonus" tune on the soundtrack album.


The soundtrack for "Fun in Acapulco" also had bonus tracks including this lovely ballad.



Elvis stated his favorite leading lady was Shelley Fabares who appeared in several Elvis films including Girl Happy. This number did not start a dance craze, but it has a great beat, 60's sound, and sax solo.






That's it for this week's segment.

Goodnight.
Sleep well.
Have a great weekend.
We close with pianist Beegie Adair and her take on an Elvis recording so fitting for the millions of fans who still deeply miss the King.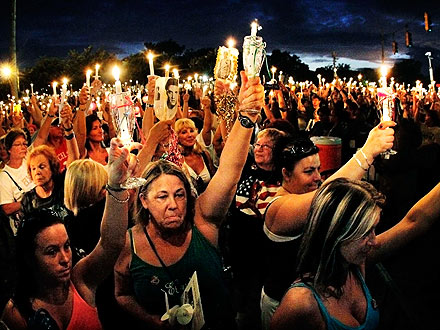 This site uses Facebook comments to make it easier for you to contribute. If you see a comment you would like to flag for spam or abuse, click the "x" in the upper right of it. By posting, you agree to our Terms of Use.