Kevin Fischer is a veteran broadcaster, the recipient of over 150 major journalism awards from the Milwaukee Press Club, the Wisconsin Associated Press, the Northwest Broadcast News Association, the Wisconsin Bar Association, and others. He has been seen and heard on Milwaukee TV and radio stations for over three decades. A longtime aide to state Senate Republicans in the Wisconsin Legislature, Kevin can be seen offering his views on the news on the public affairs program, "InterCHANGE," on Milwaukee Public Television Channel 10, and heard filling in on Newstalk 1130 WISN. He lives with his wife, Jennifer, and their lovely young daughter, Kyla Audrey, in Franklin.

"Music is forever; music should grow and mature with you, following you right on up until you die. "
Paul Simon

It's Friday night. Time to unwind with our regular Friday night feature on This Just In.

The weekend has finally arrived.

The sun has set.

The evening sky has erupted.

Let's smooth our way into Saturday and Sunday.

In June, legendary saxophonist

Clarence Clemons

died from

complications

from

a stroke

he suffered just a week before. Clemons, who played in Bruce Springsteen's E Street Band, was 69.



Clemons said this about his instrument of choice:


"As a horn player, the greatest compliment one can get is when a person comes to you and says, 'I heard this saxophone on the radio the other day and I knew it was you. I don't know the song, but I know it was you on sax.'
I take my job as a rock and roll sax player very seriously. To do it the way that I must do it, I must be in good condition. The better shape you're in, the harder you can rock."

Long before Clemons, the saxophone played an important role in popular music, even dominating in the 40's and 50's until the guitar took over in the 60's.

The solo saxophone often was the key instrument during the bridge, the instrumental portion in the middle of a recording between verses.

Tonight, we have more fun with some great examples of pop music sax. There are tons of examples, but we think we've picked some you'll really enjoy.

However, we can't always identify the player. As
Alex Frazer-Harrison writes in
"The History of Top 40 Saxophone Solos":
"Unfortunately, for many years in the world of pop music most session musicians were never given credit on the LP covers or CD liner notes. In some cases, had it not been for the studio musicians, the record might not have become a hit for the singer. Even in some recordings that used the singer's own band, credit was not always given to those who made it happen."

Let's get rockin' and rollin'.

We start with Gary U.S. Bonds and a song that had an abrupt ending/fadeout I never liked because I wanted another couple of verses.

Toe tappin'.

Finger poppin'.

Early 60's.

Cool.

Check out that tenor sax by Gene Barge (and the pumpin' piano).





Next up, a great combination.

Like a burger and cheese, a brat and kraut, potato pancakes and applesauce.

You get the point.

If I say "Chubby Checker," what comes to mind?

That's obvious.

Now bring in Dee Dee Sharp who gave us the "Mashed Potato."

You know what you've got baby, baby, baby, baby (besides a great sax)?

I'll let them tell you, nice and slow.

And BTW, if you haven't moved the furniture around yet to provide more dancin' room, what's wrong with you?





So many great artists have come out of Philadelphia. In the early 60's, between Elvis' return from the Army and the Beatles' invasion, the Dovells enjoyed some doo wop success.

The lead singer was Len Boristoff. A couple of years after this recording, he left to pursue a solo career as Len Barry and had a huge smash with "1-2-3….oh that's how elementary it's gonna be."

Get up everybody.

Get up.

Get up…EVERYBODY!

Because you can't sit down.






The Dovells recorded on Parkway, the same record label as Chubby Checker.

Again, there are countless examples that fit our theme tonight. Our next tune is one of my top five or ten favorites of all-time. This band at one time briefly challenged and some would say matched the popularity of the Beatles. The key word is briefly. Sax player Denis Payton died in 2006 at the age of 63. He really let 'er rip in this big hit.







That's it for this evening.

Goodnight.

Sleep well.

Have a great weekend.

We close with a great singer and performer and a great sax player.

The anniversary of Elvis' death is next week. The late Boots Randolph gave a roaring sax solo in the King's 1961 bluesy hit, "I Feel So Bad."




Here's Elvis on stage with saxophonist Boots Randolph at the Bloch Arena in Honolulu in March of 1961, performing a benefit concert for the USS Arizona Memorial in Pearl Harbor.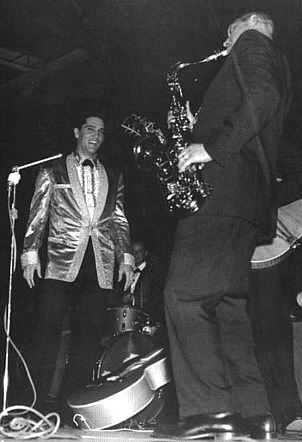 This site uses Facebook comments to make it easier for you to contribute. If you see a comment you would like to flag for spam or abuse, click the "x" in the upper right of it. By posting, you agree to our Terms of Use.