Kevin Fischer is a veteran broadcaster, the recipient of over 150 major journalism awards from the Milwaukee Press Club, the Wisconsin Associated Press, the Northwest Broadcast News Association, the Wisconsin Bar Association, and others. He has been seen and heard on Milwaukee TV and radio stations for over three decades. A longtime aide to state Senate Republicans in the Wisconsin Legislature, Kevin can be seen offering his views on the news on the public affairs program, "InterCHANGE," on Milwaukee Public Television Channel 10, and heard filling in on Newstalk 1130 WISN. He lives with his wife, Jennifer, and their lovely young daughter, Kyla Audrey, in Franklin.

Just how in the world would we survive without the ingenious folks at The Center for Science in the Public Interest.

They sound so official and so smart...

NOT.

I recall many, many, many years ago this group putting out an urgent bulletin: Cinnamon rolls might be fattening.






Ya think??!!

The Center has announced the restaurant items with the most fat and sodium, advising that the average person should limit calorie intake per day to 2,000 calories.

We begin with Denny's "Fried Cheese Melt," a grilled cheese sandwich that contains four fried mozzarella sticks.

1260 calories.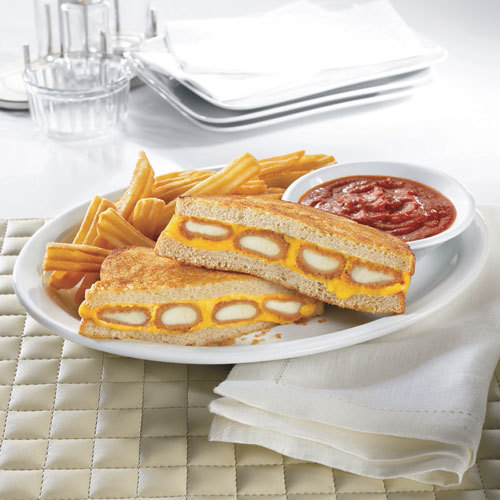 Applebee's "Provolone Stuffed Meatballs with Fettuccine."

1520 calories.




The Cheesecake Factory's "Red Velvet Cheesecake."

1540 calories.





And Cold Stone Creamery's "PB&C Shake" (peanut butter & chocolate).

2010 calories.






Now, we all should be extremely grateful for this tremendously insightful, and helpful public service provided by the Rhodes Scholars at the (deep breath) Center for Science in the Public Interest.

I mean, hey, who knew?

The painfully obvious proclamations from The Center for Blah Blah Blah notwithstanding, the nanny state led by the Obamas doesn't believe we're smart enough to know a cheeseburger has a bunch of calories, a double cheeseburger has even more, and a triple is off the charts.

Some restaurants are or will be required by government over-regulation to list the calories of each menu offering. Many would argue this public sector interference is just so terrific. They would be of the well-intentioned crowd and we know what they say about good intentions on a road.

Problem.

Those calorie accounts mandated by Uncle Sam...they're not accurate. ABC News reports:

"A new study published in the Journal of the American Medical Association (JAMA) this week showed the accuracy of caloric counts from restaurants is unknown. On the same day, the Center for Science in the Public Interest released its annual Xtreme Eating Awards to eight menu items which may strike fear into the hearts of calorie-counters.

Susan Roberts of TuftsUniversity and her co-authors studied 269 food items and 242 unique foods from 42 restaurants. The foods and restaurants were randomly selected from quick-serve and sit-down restaurants in Massachusetts, Arkansas and Indiana between January and June 2010.

While the researchers found that stated energy contents of restaurant foods were accurate overall, there was 'substantial inaccuracy' for some individual foods, with understated energy contents for those with lower energy contents. "

You think it matters to government bureaucrats that they are enforcing a system that is unreliable and false?

The feds, the states, the locals simply need to stop wasting their time and just let people decide if they want the poached eggs or the triple omelet.

Read more from ABC and responses from restaurants.


CULINARY NO-NO BONUS

Here's yet another example of the foolishness surrounding the proposed solutions to America's weight problem. It's the same solution liberals offer for everything.


A CULINARY NO-NO OF EPIC PROPORTIONS

Are you an oenophile?

Please, go no further.


AND WE LEAVE YOU WITH THIS...

Sweetness.

This site uses Facebook comments to make it easier for you to contribute. If you see a comment you would like to flag for spam or abuse, click the "x" in the upper right of it. By posting, you agree to our Terms of Use.