Kevin Fischer is a veteran broadcaster, the recipient of over 150 major journalism awards from the Milwaukee Press Club, the Wisconsin Associated Press, the Northwest Broadcast News Association, the Wisconsin Bar Association, and others. He has been seen and heard on Milwaukee TV and radio stations for over three decades. A longtime aide to state Senate Republicans in the Wisconsin Legislature, Kevin can be seen offering his views on the news on the public affairs program, "InterCHANGE," on Milwaukee Public Television Channel 10, and heard filling in on Newstalk 1130 WISN. He lives with his wife, Jennifer, and their lovely young daughter, Kyla Audrey, in Franklin.

THERE ARE THOUSANDS AND THOUSANDS OF

FOOD BLOGS, BUT ONLY ONE CULINARY NO-

NO!






I confess I've been pondering this no-no for a long, long time.*

This week we pose one of those "If you were trapped on a deserted island, what five albums would you want?"-type questions.

With a culinary twist.

What's your favorite meal?

Your ultimate dinner.

Numero uno.

Top shelf.

The one that stands out above all the rest.

You dream of it.

It's on your mind as you anticipate for days and days.

You just can't wait for it to be served.






For some, it's what's for dinner.






Yep, that's good, or maybe a combo of the above two.






Or...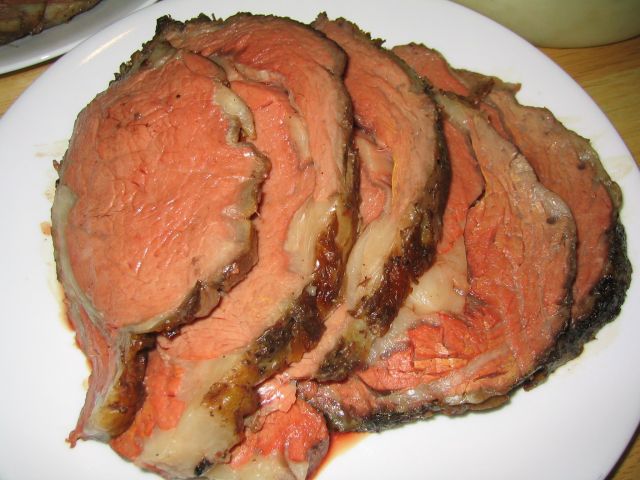 Can't forget...







And those are just the main courses. There are sides to consider, appetizers, and dessert.

But I imagine the above are what immediately come to mind.

A nice, thick, juicy grilled steak, possibly wrapped in bacon and doused with bleu or gorgonzolla chese.

Sweet lobster tail with melted butter.

Crab legs and lots of them.

Succulent shrimp.

Duck or some fancy poultry.

Lamb chops.

Prime rib seasoned just so.

I'll bet you missed one.

Never even thought of it.

And it fits all of our aforementioned criteria:

Your ultimate dinner.

Numero uno.

Top shelf.

The one that stands out above all the rest.

You dream of it.

It's on your mind as you anticipate for days and days.

You just can't wait for it to be served.

Don't get me wrong. Steak, lobster, prime rib, shrimp, duck, goose...nothin' shabby about any of those delights.

But think about it. The quintessential answer to our simple question is supplied by Norman Rockwell...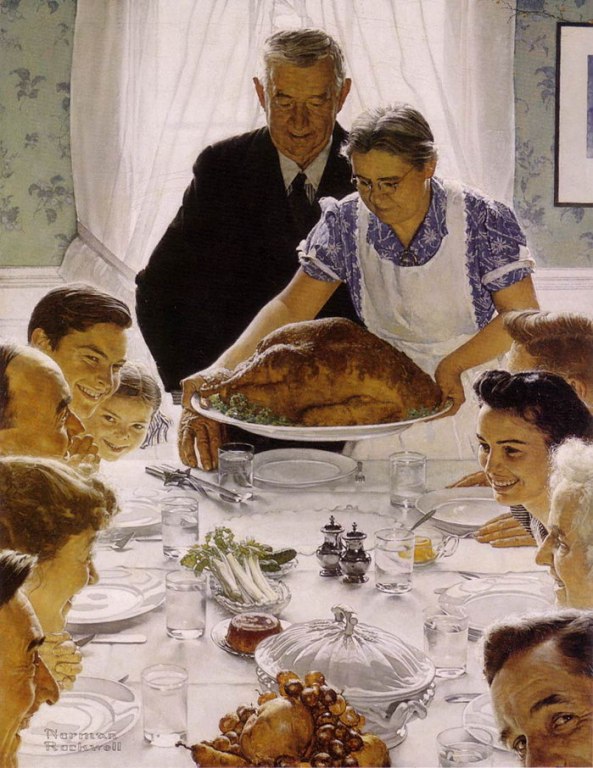 Today, it looks like this...







A plump 91% of Americans eat turkey at Thanksgiving. Roasted, grilled, microwaved, smoked, deep-fried, cooked in a clay pot or on a rotisserie, marinated, basted, seasoned, rubbed, and accompanied by stuffing, sweet potatoes, green bean casserole, rolls with butter, cranberries, relishes, and pumpkin pie.

Post-Thanksgiving, the leftovers find their way into sandwiches, soup, stews, salads, casseroles and stir-fries.

When it's not the fourth Thursday of November, the National Turkey Federation swears Americans experiment and it offers 1,500 recipes including turkey schnitzel, enchiladas, breakfast sausage tarts, burritos, crepes, gumbo, lasagna, pizza, quiche, and more.

Maybe so. But I'm talking about...






We start salivating for turkey and all the trimmings around November 10. The planning begins not long after.

While family and football are a big part of the holiday, it's that meal filled with one winner after another that is everyone longs for with gluttonous anticipation.

Preparation might not be the easiest or quickest, but it's cheap and it's all so, so delicious, the dinner of the year.

So if it's so mouth-watering spectacular, why do we eat this sensational fare only once a year?

* Other inspirations for this week's no-no: My niece who prefers turkey burgers, and my nephew who recently reminded me that Stack'd has the Gobbler on its menu that reminds of Thanksgiving.


CULINARY NO-NO BONUS

Here's a first on my blog:

Was President Obama right?

Last week during a news conference as he discussed the debt ceiling issue, the president ruled out the possibility of a short-term deal that would push a broader debate to a later date. He then said this:

"It's not going to get easier. It's going to get harder. So we might as well do it now -- pull off the Band-Aid; eat our peas."

The inference was clear. From the president's perspective, even though it wouldn't taste food, the job had to get done.
The USA Dry Pea & Lentil Council saw that damage control was necessary and issued a clever response:

"Eating peas has two clear benefits: they can help close the nutritional loopholes in your diet, and preparation isn't taxing! If tasty and nutritious meals featuring peas are served more frequently in the White House and in the cafeterias of both Houses of Congress, it will contribute to a balanced diet, if not a balanced budget."

How many really good recipes require peas?

Pot pies.

Seven layer salad.

Shepherd's pie.

Split pea soup.

That's about it.

Though entirely wrong and irresponsible on the debt ceiling, Obama was right that eating peas is an act requiring a modicum amount of courage. He should lead the way and eat an entire bowl at his next useless news conference.


ANOTHER CULINARY NO-NO BONUS

Today is National Ice Cream Day, seriously.

And yes, America can mess that up.

Watch.

While we're on the subject, Culinary no-no #119 comes to mind.


This site uses Facebook comments to make it easier for you to contribute. If you see a comment you would like to flag for spam or abuse, click the "x" in the upper right of it. By posting, you agree to our Terms of Use.