Kevin Fischer is a veteran broadcaster, the recipient of over 150 major journalism awards from the Milwaukee Press Club, the Wisconsin Associated Press, the Northwest Broadcast News Association, the Wisconsin Bar Association, and others. He has been seen and heard on Milwaukee TV and radio stations for over three decades. A longtime aide to state Senate Republicans in the Wisconsin Legislature, Kevin can be seen offering his views on the news on the public affairs program, "InterCHANGE," on Milwaukee Public Television Channel 10, and heard filling in on Newstalk 1130 WISN. He lives with his wife, Jennifer, and their lovely young daughter, Kyla Audrey, in Franklin.

THERE ARE THOUSANDS AND THOUSANDS OF

FOOD BLOGS, BUT ONLY ONE CULINARY NO-

NO!


Ask any photographer for the Milwaukee Journal Sentinel or any other newspaper or website, he/she will undoubtedly tell you that shooting restaurant food selections isn't very creative and maybe not all that exciting. Even so, I marvel at their mouth-watering work. Some examples:







Ward's prime rib. The downtown Milwaukee restaurant offers cuts of 8-, 16-, 24- and, pictured above, 40-ounces. Milwaukee Journal Sentinel photo: Rick Wood.







The onion rings at Stack'd in Milwaukee. SeriousEats.com writes: "As an appetizer, they're served a foot high on a metal spindle, which has its pros and cons: It keeps the rings crispy longer as they're not steaming in a pile, but they don't stay hot very long. The onions slices are massive—some half an onion tall—and the crumb breading clings to the onion beautifully. The zesty barbecue aioli sauce served with the rings is a nice change from the standard ranch dressing. There were so many in the appetizer order we had to doggy bag half of them."

Tell me those don't look awesome.






Oh my. Osso buso -- braised veal shank -- at Ryan Braun's Graffito, is served with saffrom risotto. Journal Sentinel photo: Mark Hoffman

Those are pre-arranged, staged photos of menu items taken after a critic has already completed a thorough review.

Amateurs also take pictures inside restaurants, normally of folks celebrating a special occasion.

And a new trend has, if you'll pardon the pun, developed. Restaurant patrons are taking pictures of their dinners…just to take pictures of their dinners. For posterity? Perhaps. But many turn up on personal websites.

The vacation remembrance is quite popular. Hey everybody, look what I ate at the Wolfgang Puck Cafe at Walt Disney World...







Meatloaf made with pork and veal with garlic mashed potatoes and crispy onion rings.

I personally haven't seen a customer start positioning a plate for the perfect picture. But it's happening.

What's the big deal, you ask?

Phoebe Damrosch is the author of …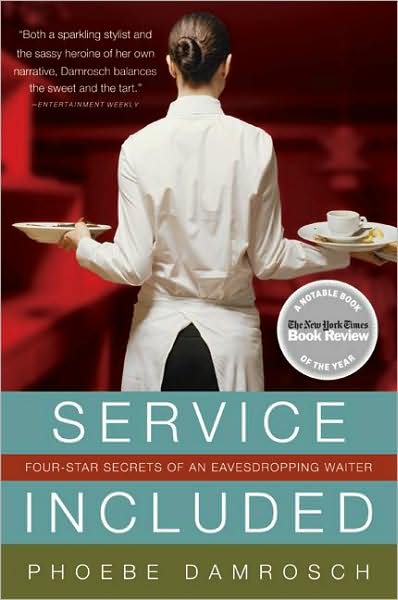 From her bio:

"A job as a busboy at a cafe in Williamsburg, Brooklyn led to a position at a slightly swankier place in midtown Manhattan and eventually to opening the highly anticipated Per Se in the Time Warner Center.
At some point, amid the decanting and truffle-shaving at Per Se, Phoebe realized that she was in the middle of a book-worthy story. Much had been written about chefs and kitchens, but very little about the intrigue of service, let alone in the prestigious dining rooms of New York."

Damrosch has views I value.

Her latest: Damrosch believes people taking photos of their restaurant meals = cellphones. In other words, they're an irritant.

"Shutter snaps and flash pops never make a meal taste better."

I reckon she could be right. Some dining establishments have banned the personal photo shoots.

Damrosch writes:

"I bring this up not to proselytize, but instead to call attention to this irritant and to set up a few ground rules that we can hopefully all agree with in order to minimize our impact on others."

Damrosch's piece is featured in the New York Magazine.


CULINARY NO-NO BONUS

I read in today's paper that Wisconsinites really love their wine. But according to some, Paul Ryan is not allowed to.


ANOTHER CULINARY NO-NO BONUS

"The Milk Truck"


AND ANOTHER...

America's top 10 sandwiches veganzied. Yuck!


AND ANOTHER...

The calorie count is a killer in NYC.


AND ONE MORE...

America's saltiest foods
This site uses Facebook comments to make it easier for you to contribute. If you see a comment you would like to flag for spam or abuse, click the "x" in the upper right of it. By posting, you agree to our Terms of Use.