Kevin Fischer is a veteran broadcaster, the recipient of over 150 major journalism awards from the Milwaukee Press Club, the Wisconsin Associated Press, the Northwest Broadcast News Association, the Wisconsin Bar Association, and others. He has been seen and heard on Milwaukee TV and radio stations for over three decades. A longtime aide to state Senate Republicans in the Wisconsin Legislature, Kevin can be seen offering his views on the news on the public affairs program, "InterCHANGE," on Milwaukee Public Television Channel 10, and heard filling in on Newstalk 1130 WISN. He lives with his wife, Jennifer, and their lovely young daughter, Kyla Audrey, in Franklin.

I often get asked about my necktie collection. It's massive, huge.

Many of my ties contain the American flag including traditional designs, one with the Statue of Liberty, another with Mickey Mouse decked out in red, white, and blue.

I wear them, one and all, with deep pride and love of country. During the mid-90's, those ties would have been the subject of ridicule from the Democrat Party.

I was working at WTMJ at the time and one of my duties was to produce a daily radio commentary. The summer of 1995 I recall as though it was yesterday. On the floor of the US House of Representatives, the debate was over a flag desecration amendment.

In a nutshell, Republicans opposed flag desecration while Democrats supported doing whatever you wanted to the flag. Set it on fire? Why not! Urinate on it? Go right ahead! Put it on the floor in a museum and have patrons walk all over it and call that art? Of course!

I was able to find video of US House floor debate that inspired one of my WTMJ commentaries nearly 16 years ago. Gary Ackerman (D-NY), in a feeble attempt at being humorous, comes off instead as absurd and ignorant. Ackerman says he doesn't want to trivialize the issue, then does his ultimate best to do just that.

Watch the following video from the 14:55 mark followed by a great retort from NY Congressman Gerald Solomon and the very eloquent Henry Hyde.

God bless our great country and the flag it stands for. And don't even think about inflicting even the slightest of damage to the Stars and Stripes.





An illustration of the Grand Union Flag of 1776. This was the first flag used by the American colonies to symbolize their unity during the War of Independence.(Kean Collection/Getty Images)





Art work by artist Bob Layton illustrating rescue workers after the Sept. 11 terrorist attacks is seen at a 2002 exhibit in New York. (Photo by Spencer Platt/Getty Images)





The U.S. flag is raised over the Marine Corps Memorial in Arlington, Va., on Feb. 23 during an event to honor veterans of the Battle of Iwo Jima. (Photo by Tim Sloan /Getty Images)





A four-year-old boy places a flag in the ground to commemorate President Ronald Reagan. (Photo by David McNew/Getty Images)



Former President George W. Bush and his wife, Laura Bush, cheer on the U.S. swim team at the Beijing 2008 Olympic Games. (
Photo by Ezra Shaw/Getty Images
)


A fan shows her true colors during a women's tennis match at the Olympic Green Tennis Centre in Beijing in 2008. (Photo by Philippe Huguen /Getty Images)





A statue designed by Paul Wenzel entitled "Mickey Celebrates our Freedom," greets passersby on State Street in Chicago. (Photo by Tim Boyle/Getty Images)








A worker shows off an American flag cake at a bakery on Wall Street in New York. (Photo by Mario Tama/Getty Images)





A Gibson guitar is on display at the Tommy Hilfiger store in Berlin. (Photo by Kurt Vinion/Getty Images)







Uncle Sam stands over an American flag cake at the U.S. Embassy dining hall in Baghdad, Iraq.
(Photo by John Moore/Getty Images)





Sixty thousand American flags are placed in the ground as part of a Flag Day Memorial in Fairless Hills, Pa. (Photo by William Thomas Cain/Getty Images)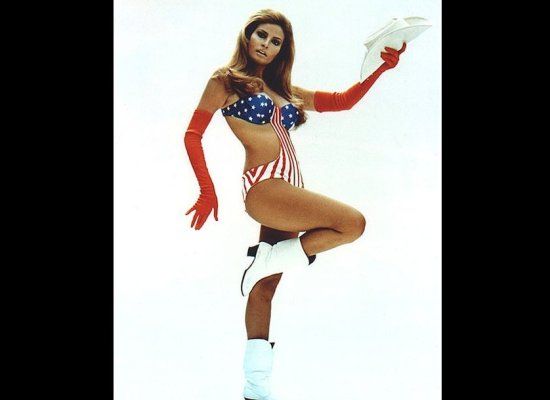 Raquel Welch in 1970's Myra Breckinridge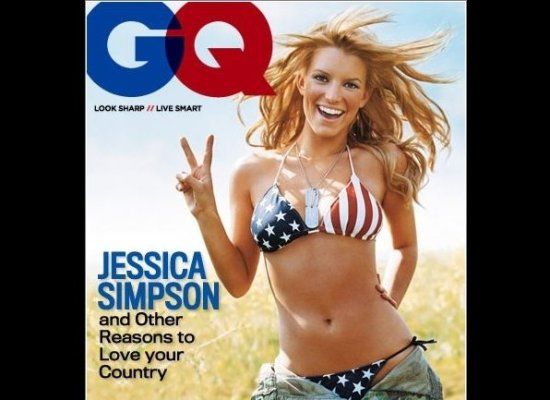 Jessica Simpson on the cover of GQ in 2005


This site uses Facebook comments to make it easier for you to contribute. If you see a comment you would like to flag for spam or abuse, click the "x" in the upper right of it. By posting, you agree to our Terms of Use.