Kevin Fischer is a veteran broadcaster, the recipient of over 150 major journalism awards from the Milwaukee Press Club, the Wisconsin Associated Press, the Northwest Broadcast News Association, the Wisconsin Bar Association, and others. He has been seen and heard on Milwaukee TV and radio stations for over three decades. A longtime aide to state Senate Republicans in the Wisconsin Legislature, Kevin can be seen offering his views on the news on the public affairs program, "InterCHANGE," on Milwaukee Public Television Channel 10, and heard filling in on Newstalk 1130 WISN. He lives with his wife, Jennifer, and their lovely young daughter, Kyla Audrey, in Franklin.

It's Friday night.

Time to unwind.

The weekend has finally arrived.

Let's put controversy aside for the rest of the work week and smooth our way into Saturday and Sunday.

Normally during our Friday night get togethers, we get all nostalgic. Tonight, music from today, soft and mellow.

We start off with saxman Dave Koz and one of the hottest smooth jazz albums this week. Check him out from his LP, "Hello Tomorrow."

It's called, "Think Big."






There's that familiar Koz sound of the high notes on his alto sax.

My wife, Jennifer is shouting in the background to be nice.

So, we move on.

To a truly super group filled with super soloists and super musicians.

They are Fourplay.

Their latest album is "Let's Touch the Sky."

This track is called "3rd Degree."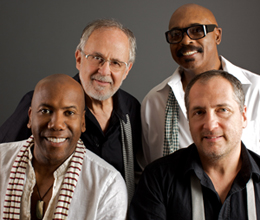 That's it for this week's entry for music lovers.

Goodnight.

Sleep well.

Have a great weekend.

I know it will be wet and sloppy at times. That's why God invented basketball on TV and Fourplay.

We close with guitarist Nils. His latest album borrows a title that's been in the news as of late.

The track is "Jump Start."

The album is WTF...."What the Funk."

This site uses Facebook comments to make it easier for you to contribute. If you see a comment you would like to flag for spam or abuse, click the "x" in the upper right of it. By posting, you agree to our Terms of Use.