Kevin Fischer is a veteran broadcaster, the recipient of over 150 major journalism awards from the Milwaukee Press Club, the Wisconsin Associated Press, the Northwest Broadcast News Association, the Wisconsin Bar Association, and others. He has been seen and heard on Milwaukee TV and radio stations for over three decades. A longtime aide to state Senate Republicans in the Wisconsin Legislature, Kevin can be seen offering his views on the news on the public affairs program, "InterCHANGE," on Milwaukee Public Television Channel 10, and heard filling in on Newstalk 1130 WISN. He lives with his wife, Jennifer, and their lovely young daughter, Kyla Audrey, in Franklin.

Feast your eyes.







Good stuff.







And you love it.








According to Pizza.com, "Americans eat approximately 100 acres of pizza a day or about 350 slices per second." Scrumptious Italian pies are a $30 billion business.

Pizza may have been born in Italy, but GQ food writer Alan Richman contends the popular food has become more prominent and vital in America. Richman writes:

"We care more about it. We eat more of it, and unlike the Italians, we appreciate it at dinner, at lunch, and at breakfast, when we have it cold, standing up, to make hangovers go away. Italians don't really understand pizza. They think of it as knife-and-fork food, best after the sun goes down.

Pizza isn't as fundamental to Italy as it is to America. Over there, it plays a secondary role to pasta, risotto, and polenta. To be candid, I think they could do without it. Not us. Over here, it's one of the few foreign foods we've embraced wholeheartedly, made entirely our own.

The simple truth is that pizza in its most primal form—cheese, tomato, crust—is perfect food. It's good for vegetarians, even though it contains no vegetables. It's good for us meat eaters, chiefly because we don't care much for vegetables but also because pizza is one of the few foods where the absence of meat isn't missed. (Although, when I think about it, a little sausage never hurts, especially if it's crumbled up rather than sliced.)

It's the absolute best food for sharing (unless you're in love, in which case we're talking about an ice cream cone). It's the healthiest of treats; the strictest mother wouldn't argue that pizza is bad for kids. It's the most versatile delivery food, because it reheats much better than Chinese, and if you accidentally burn it, pizza is still good. Most important, at least to me: Pizza gives pepperoni a reason to exist."

A couple of years ago, Richman was given the excruciatuingly painmful assignment of finding the best pizza on the planet, a journey that had him travel 20,000 miles across the US of A. The best on the planet? This oughta be good, right?

When someone decalres one pizza pie to be the very best from Alaska to Florida, there's bound to be disagreement, and Richman readily understands.

See this deli meat?








That's mortadella, an Italian bologna that can have pistachios or peppercorns.

I love mortadella.

You know where this is going, don't you.

Richman's choice for the best pizza in America is a mortadella pie at Great Lake Pizza in Chicago. You can see this pink creation about :50 in to the following TODAY Show video.

The best in all of America? I sincerely believe some pizza dough tossers would spit in Richman's face.

A great TV philosopher, Arthur Fonzarelli once said ice cream and kethcup are wonderful apart, but put them together? Ditto for a pizza crust, sauce and mortadella.

This Culinary no-no, like many of the pizza dishes in Chicago, gets deeper and deeper.

The home of this dubious #1 pizza, Great Lake Pizza is a small joint run that seats only about 14 at the most. No beer or wine is sold, but you can BYOB. There are but five pizza options that change periodically. You cannot pick and choose your own toppings. All the pies are made exclusively by the owner, Nick Lessins and therein lies a big problem.

Richman of GQ writes about Lessins, "No man is slower. He makes each as though it is his first, manipulating the dough until it appears flawless, putting on toppings one small bit after another. In the time he takes to create a pie, civilizations could rise and fall, not just crusts."

Lessins, it's been said, takes an almost Soup Nazi-like approach to those patrons who aren't fond of waiting and waiting and waiting and waiting. He told the New York Times:

"We've had a few people get pretty flustered — 'What do you mean we can't be seated? We have to wait a couple of hours?' Like somehow we've violated their human rights. Why is it a crime that we're not open seven days and we're not seating 100 people?"

Lessins' wife, Lydia Esparza responds to the Soup Nazi comparison:

"That comes from American culture. The customer really isn't always right. We believe we have the expertise to bring the best product. We don't randomly put these ingredients together. We spend the time to test these and try them."

If you detect a touch of arrogance, Lessins replies:

"I think that perception of arrogance has to do with the sense of entitlement and a lack of respect for someone wanting to do their job. We're just trying to do the job the best we can. We're trying to provide a quality experience for everyone who comes in. In the food service business, it's assumed that the customers have a set of God-given birthrights when they come into an establishment. It's like they've been wronged in a lot of parts of their lives, and this is their chance to even the score."

The Great Lake Pizza business boomed after the GQ article. Most restaurateurs would be ecstatic. Lessins?

"Everyone forgot we were this small operation and couldn't serve everyone. We never intended to serve mass quantities and have our product available 24 hours a day, seven days a week. We wanted to start a business so we could get some control in our lives."

Here's more from the New York Times.

As for GQ's Richman, his article ranking the top 25 pizzas is filled with culinary no-no's. His final words on that mortadella pizza:

"This pie—creative, original, and somewhat local—represents everything irresistible about the new American style of pizza-making."

If that's the case, please give me the old style of pizza-making anytime.

At least Richman places pizza on its proper pedestal writing, "The simple truth is that pizza in its most primal form—cheese, tomato, crust—is perfect food." The New York Times Magazine concludes that "pizza is evil." Yes, evil.

The assessment is a reaction to ( and an endorsement of) the recently released dietary guidelines from the USDA. Big nanny goes after one of the most popular food items in the world. Sounds like something you'd hear during TV sweeps month: "Pizza can kill you! The scary story tonight 10:00!"

Right now, none of us are eating right. The USDA says, "Currently, very few Americans consume diets that meet Dietary Guideline recommenda­tions." So, the USDA in its infinite wisdom lays out all those nasty foods that we're eating in excess that could lead to illness and disease.

Saturated fatty acids. They're more critical, according to the USDA than the actual amount of fat in our diets. Fatty acids should make up, on average, less than 10% of the calories in our diet. America is at 11%. Too much. Major sources of fatty acid in our diets: 1) Regular cheese (9% of total saturated fat intake), 2) DING DING DING! PIZZA (6%).

Solid fats. Solid fats make up an average of 19 % of total calories in our diets, providing few necessary nutrients and no dietary fiber. The major Food sources of solid fats in our diets: 1) Grain-based des­serts (11% of all solid fat intake), 2) DING DING DING! PIZZA (9%).

Sodium. While an essential nutrient, sodium intake needs to be limited to avoid high blood pressure. The major food sources of sodium in our diets: 1) Yeast breads (7.3%), 2) Chicken, chicken dishes (6.8%), 3) DING DING DING! PIZZA! (6.3%). Pizza was worse than cold cuts, bacon, sausages and burgers.

The New York Times Magazine, not surprisingly writes, "The problem has been that for 30 years, until the new guidelines were issued, the government has refused to brand specific foods—especially foods with powerful lobbies behind them—as the public-health enemies they can be."

OK. Once again we need Big Brother using our tax dollars to inform us that gargantuan gooey cinnamon rolls are not a wise choice. Oh, and let's not forget pizza. Evil pizza.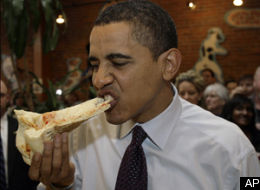 You got that?!

Culinary no-no bonuses? We've got 'em, you bet!

CULINARY NO-NO BONUS #1

"My boss……If he sees a (BLANK) come in we turn our backs and completely ignore them, and tell them to leave. Their kind aren't welcomed in our establishment."

Which restaurant is banning what kind of individual?

The answer is right here.


CULINARY NO-NO BONUS #2

Maybe Kathie Lee simply chose the wrong wine...






CULINARY NO-NO BONUS #3

Sometimes politicians do go too far. Is nothing sacred anymore?


CULINARY NO-NO BONUS #4

"No-one's done anything interesting with ice cream in the last hundred years."

OK...


CULINARY NO-NO BONUS #5

No. No. A thousand times no.
This site uses Facebook comments to make it easier for you to contribute. If you see a comment you would like to flag for spam or abuse, click the "x" in the upper right of it. By posting, you agree to our Terms of Use.