Kevin Fischer is a veteran broadcaster, the recipient of over 150 major journalism awards from the Milwaukee Press Club, the Wisconsin Associated Press, the Northwest Broadcast News Association, the Wisconsin Bar Association, and others. He has been seen and heard on Milwaukee TV and radio stations for over three decades. A longtime aide to state Senate Republicans in the Wisconsin Legislature, Kevin can be seen offering his views on the news on the public affairs program, "InterCHANGE," on Milwaukee Public Television Channel 10, and heard filling in on Newstalk 1130 WISN. He lives with his wife, Jennifer, and their lovely young daughter, Kyla Audrey, in Franklin.

A homeless person?
Susan Howes (R), a homeless woman from Madison, Wisconsin, sleeps on a bench outside of the state Capitol Monday. Photo: Reuters

Before the budget repair bill controversy boiled over, homeless individuals who were able to stay inside the Capitol had to exit every day at the close of business.





A protestor sleeps inside the Wisconsin State Capitol February 21, 2011 in Madison, Wisconsin. (Photo by Eric Thayer/Getty Images)


Maybe the homeless should have organized in protest a long time ago to keep this beautiful building open at night.Governor Walker has been extremely kind to say the least to the demonstrators who have, according to some reports, engaged in vandalism.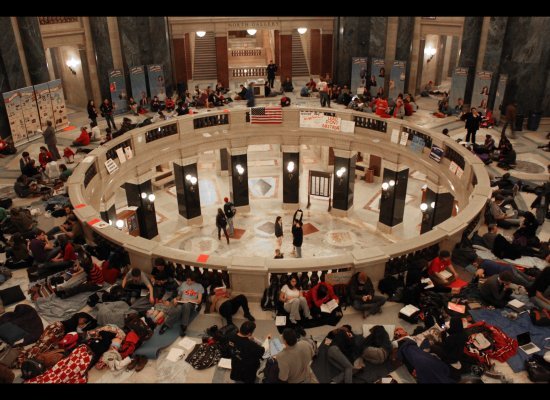 Photo: newworldorderreport.com


This site uses Facebook comments to make it easier for you to contribute. If you see a comment you would like to flag for spam or abuse, click the "x" in the upper right of it. By posting, you agree to our Terms of Use.