Kevin Fischer is a veteran broadcaster, the recipient of over 150 major journalism awards from the Milwaukee Press Club, the Wisconsin Associated Press, the Northwest Broadcast News Association, the Wisconsin Bar Association, and others. He has been seen and heard on Milwaukee TV and radio stations for over three decades. A longtime aide to state Senate Republicans in the Wisconsin Legislature, Kevin can be seen offering his views on the news on the public affairs program, "InterCHANGE," on Milwaukee Public Television Channel 10, and heard filling in on Newstalk 1130 WISN. He lives with his wife, Jennifer, and their lovely young daughter, Kyla Audrey, in Franklin.

While our little corner of the world has escaped major snowstorms and blizzards, the rest of the country has been pummeled.


AP photo






Getty Images


The above photos were taken this week in Philadelphia.

This next AP photo is from Newark, New Jersey.






The woman behind the wheel is probably a very nice lady. But she's breaking the law.

The state of New Jersey website makes it clear: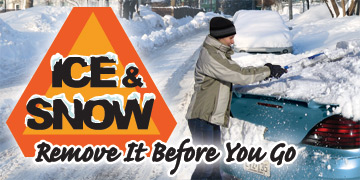 "Motorists who fail to clear their vehicles of ice and snow before driving can be cited and fined under an amended law, which became effective October 20, 2010. Prior to this change, a motorist could only receive a citation if failure to remove ice and snow from a vehicle resulted in injury to others or property damage.
Fines for violating the new law range from $25 to $75."

Thus...





A Newark Police officer instructs Alfredo Pinho to clean out snow from the roof of the vehicle he was driving, Thursday, Jan. 27, 2011, in Newark, N.J. (AP Photo/Julio Cortez)

Can't tell for sure, but it seems as though the officer is merely instructing the motorist to abide by the new law and is not issuing a $25-$75 ticket.

The New York Times reports some states are clamping down on snow-covered cars in the interest of safety. However...

"Though reports of accidents have spurred such laws, no statistics are available for crashes caused by the accumulation of snow and ice on vehicles, according to a 2008 study prepared by the American Transportation Research Institute, a nonprofit group, for the American Trucking Associations. The study noted that the deadliest accidents caused by airborne ice involved larger vehicles, notably trucks."

Similar laws spread across the country. The Oshkosh Northwestern reports:

"Motorists who do not adequately remove frost from windshields and side and rear windows, and those who fail to remove snow and ice from the outside of their vehicles may be stopped by Oshkosh police and could face a fine of $175.30. 'Police will not ignore these,' said officer Joe Nichols, a spokesman for the Oshkosh Police Department."

Common sense dictates it's wise to scrape snow and ice off a vehicle. Public safety is vital. Even so, the Oshkosh law isn't popular with all. Some comments to the Oshkosh Northwestern:


gee, don't the police have more to worry about than a couple inches of snow on our cars .try to clean up the stabbings and robberys in town .who comes up with this nonsense , the chief of police .wow guys get a life and leave the public alone .we don't need more gestapoizm, we get enough of that from washington .

I don't particularly care for the morons who drive around looking through a 10" clear spot either.

However, I don't think that OPD needs to make some proclomation that this "will not stand", and they will offer no "safe harbor" to anyone caught hiding these criminals either.(ok, so I took a little license...you get my drift).

Go fight crime...and let ME worry about the other driver.

So is there a policy stating what is "too much" ice and snow build up? Oh...let me guess...it's "up to the officer" right? So HE(or she) will sit in the drivers seat and observe what the driver can see from their perspective?

PLEASE pull me over...I can't wait to take this one before a judge. May not win...but it'll be worth the fight!lol

This is just another tax folks, just another tax.

I know nowdays that law enforcement has become more "community service" or whatever you call it...but until the gangs are out of the city, our gas stations quit getting knocked over, and the "bad" people are behind bars, do us a favor and quit wasting our time with this drivel


I tend to agree. The apparent warning the driver got in one of the above photos is a better approach than the tough statement by the OPD spokesman.

Finally, a $175 fine is much too steep.
This site uses Facebook comments to make it easier for you to contribute. If you see a comment you would like to flag for spam or abuse, click the "x" in the upper right of it. By posting, you agree to our Terms of Use.