Kevin Fischer is a veteran broadcaster, the recipient of over 150 major journalism awards from the Milwaukee Press Club, the Wisconsin Associated Press, the Northwest Broadcast News Association, the Wisconsin Bar Association, and others. He has been seen and heard on Milwaukee TV and radio stations for over three decades. A longtime aide to state Senate Republicans in the Wisconsin Legislature, Kevin can be seen offering his views on the news on the public affairs program, "InterCHANGE," on Milwaukee Public Television Channel 10, and heard filling in on Newstalk 1130 WISN. He lives with his wife, Jennifer, and their lovely young daughter, Kyla Audrey, in Franklin.

"THE YEAR OF MY MOTHER" IS A YEAR-LONG SERIES OF BLOGS DEDICATED TO MY DEAR, SWEET MOM WHO DIED IN EARLY JANUARY OF THIS YEAR. I PLAN TO DEVOTE SPECIAL BLOGS THROUGHOUT 2010 TO MY MOM WITH SPECIAL REFLECTIONS AND MEMORIES THAT I HOPE WILL INSPIRE READERS AND CAPTURE THE TRUE SPIRIT AND CHARACTER THAT WAS THE GREATEST WOMAN I HAVE EVER KNOWN.

As long as there's music, young girls will swoon over male singers. There's a long history of girls going bananas.

The current fave: Justin Bieber. This past decade also had the Jonas Brothers causing pre-pubescent chaos.

Let's track the history of crooners that led to swooners, along with other male heartthrobs:

1990s
Kirk Cameron, Jason Priestley, and Ashton Kutcher

1980s
Michael J. Fox, Scott Baio, and Johnny Depp

1970s
David Cassidy, Barry Williams, and Donny Osmond

1960s
The Beatles, Davy Jones and Bobby Sherman

1950s
The ultimate, Elvis Presley




But before Elvis, there was….







Eddie Fisher.

The darling of pop music and loved by women, yes, women, plural.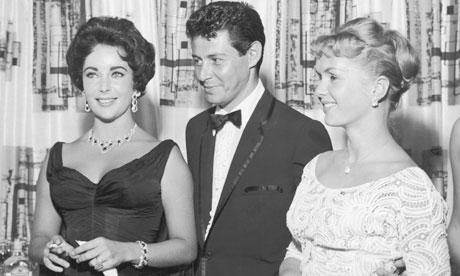 We're at that point in the calendar where we start to remember those celebrities that have passed this year. Eddie Fisher had a great voice, his own TV show, millions of record sales, and a litany of famous wives: Debbie Reynolds, Elizabeth Taylor and Connie Stevens.

Mom loved Eddie Fisher.

Mom didn't like what happened to Eddie Fisher.

From biography.com:

"Fisher married singer and actress Debbie Reynolds in 1955, and they had two children, Carrie Fisher (who famously portrayed Princess Leia in the Star Wars trilogy) and Todd Fisher. Fisher then became embroiled in one of the greatest Hollywood love scandals of the era when, after the death of his close friend Michael Todd, Fisher began an affair with Todd's widow, the movie star Elizabeth Taylor. Fisher divorced Reynolds and married Taylor in 1959, with the pair staying married for five years until Taylor left Fisher for actor Richard Burton. Fisher has since been married to Connie Stevens (1967-1969), Terry Richard (1975-1976) and Betty Lin (1993-2001). He has two children with Stevens, daughters Tricia and Joely. While Fisher's love life spiraled out of control during the 1960s, he also began heavily abusing drugs. The drugs and women, combined with the ascendancy of rock and roll, marked the end of this crooner's time atop the popular music charts."

Eddie Fisher died this past September. He was 82.

But Mom always had a special place in her heart for another Ed.

Mom never bragged or tried to one up anyone or steal the show. But she loved telling this story.

It had to be the mid to late 1940's. Mom was working at Omar's Bakery on Wisconsin Avenue.

Suddenly one day, a male figure stood at the front window and waved enthusiastically to Mom and the other gals working. The gentleman was unmistakable.







He was in town appearing at the Riverside. Mom and the others shrieked or screamed or giggled or all of the aforementioned. I think Mom said some cried.

Eddy Howard never stopped inside to buy a cruller or long john. Just as well. He would have received lousy service. All of the women would have passed out.

Mom enjoyed telling that story, though she never wanted any attention directed her way. Whenever she heard "To Each His Own," Mom seemed to wander off into another land.






1) God Bless You, Mom

2) Culinary no-no: The Audrey Fischer Edition

3) The Year of My Mother

4) The Year of My Mother - Jimmy Dean

5) The Year of My Mother - "The scarier the better."

6) The Year of My Mother: Erin Go Bragh

7) Goodnight everyone, and have a memorable weekend!

8) The Year of My Mother - Mother's Day

9) The Year of My Mother: The charming July 4th police officer

10) The Year of My Mother: Grandparents Day

11) The Year of My Mother: O Tannenbaum

12) The Year of My Mother: Before there was Elvis, there was Eddie and Eddy

This site uses Facebook comments to make it easier for you to contribute. If you see a comment you would like to flag for spam or abuse, click the "x" in the upper right of it. By posting, you agree to our Terms of Use.