Kevin Fischer is a veteran broadcaster, the recipient of over 150 major journalism awards from the Milwaukee Press Club, the Wisconsin Associated Press, the Northwest Broadcast News Association, the Wisconsin Bar Association, and others. He has been seen and heard on Milwaukee TV and radio stations for over three decades. A longtime aide to state Senate Republicans in the Wisconsin Legislature, Kevin can be seen offering his views on the news on the public affairs program, "InterCHANGE," on Milwaukee Public Television Channel 10, and heard filling in on Newstalk 1130 WISN. He lives with his wife, Jennifer, and their lovely young daughter, Kyla Audrey, in Franklin.

This week, a Culinary no-no that is NOT a Culinary no-no.

We will explain.

I am an unabashed ELVIS fan. He is my favorite artist. I also love the Beatles. But there were four of them.

Rumor has it Elvis had a penchant for peanut butter and banana sandwiches. Fried. Deep fried.

That just sounds like a heart attack on a plate.

Did you know that there are not one but TWO versions of this delight?

From goelvis.com:

"Fried Peanut Butter and Banana Sandwiches
2 slices white bread
Peanut butter to taste
1-2 bananas
Butter for sautéing
For the mashed version (according to Are You Hungry Tonight by Brenda Arlene Butler):






In a small bowl, mash banana with a spoon. Toast bread lightly. Spread peanut butter on one slice and mashed banana on the other. Fry the sandwich in melted butter until each side is golden brown. Serve hot. Makes 1 sandwich.
For the sliced version: Spread peanut butter thinly on both slices of bread. Place banana slices in between and close sandwich. Sautee in butter until golden brown. Serve hot."

The end result:







The reviews?

From comments at nigella.com:

"The idea is a bit strange and perhaps off-putting, but the taste is incredible! Make this for an indulgent evening treat.

This is literally the best sandwich you will taste in your life. I like adding sultanas to it, as well. SOOO yummy on a Saturday morning for breakfast.

One word - FABULOUS!

Yummy! This is warm and gooey inside the bread - perfect for a cold day. You will be stuffed afterwards!

This sandwich is loaded with calories but fully addictive! I've always loved banana sandwiches and this really takes it to the next level. Just delicious!"

I've been an ELVIS fan since I walked into Mr. Piasecki's record store on Mitchell Street with my brother in 1963 and kindly asked the cigar chomping Piasecki for a copy of:




So you would assume that I've been to Memphis.

Check.

I've been to .....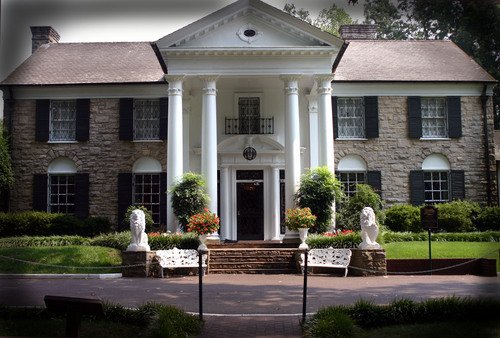 Check.
And that I've sampled Southern cooking.

Check.

That includes the famous fried peanut butter and banana sandwich.

Wrong.

Have never tried one.

But how does the saying go? When in Rome, do what the Romans do.


On a trip to Memphis, Jennifer and I naturally paid a visit to Elvis Presley's Memphis Restaurant on Beale Street. I chose the ribs, but Jennifer simply had to try the sandwich synonymous with the King. How do you wash it down? Jennifer, the sommelier in the family opted for a Chardonnay. She loved it all (The restaurant closed and re-opened as the EP Delta Restaurant and Bar that also closed and is now the Rendezvous Restaurant and Night Club. Elvis Presley Enterprises owns the lease for the building at 126 Beale. My feel is that the restaurant is too removed form Graceland. Put it right across the street in that hustling, bustling plaza and with all those Elvis fans already captive, it would be far more successful).

That's all well and good, Kev. Reviews are good, including your wife's. It's still a peanut butter and banana sandwich, FRIED…….in BUTTER.







When it comes to no-no's, this has gotta be in the top 5, just like every Elvis recording.

I'm not so sure.

From answers.yahoo.com:


"Would a peanut butter and banana sandwich be a good meal?
A peanut butter and banana sandwich is a good high-protein sandwich. Increase the health aspect of it by putting it on whole grain bread. Of course, variety is the spice of life and peanut butter can be very high in fat and sugar so be sure to include other types of meals in your weekly dining plan.
Probably not the best meal- especially if you're trying to eat healthy. The main problem is the peanut butter- it is very fattening but also high in salt and sugars. Bananas are a great natural carbohydrate and multi grain bread isn't bad but can still be fattening. It is important that you have carbs in your meal as it slowly releases energy making you feel fuller for longer however I suggest you have some protein or vitamins with it.

thats a good meal
pb has healthy fat and protein
bananas a fruit so its obv healthy
and multi grain is better than white

Peanut Butter is actually a great source of protein and fat. HEALTHY fat, not unhealthy fat you find in bags of chips/cookies. Do yourself a favour and look at the ingredient lists of peanut butter and compare the 'brand names' to some of the organic stuff in the market. You should be able to find a PB that has only 1 ingredient - Peanut's. If you start seeing a list of ingridents you cant pronounce, then put it down

Bananas are a great source of fiber and potassium, another great fruit.

As for bread, whole grain is a good way to add some extra fibre and limit the 'sugar spike' you would get from white bread

As a whole, its a healthy meal... but if your goal is to stay under a certain daily calorie intake you may be over..... but the ingredients are healthy."

Back to goelvis.com:

"Elvis Connection: This was a dish that Elvis loved to eat at home, but several local restaurants serve it now to tourists. Still, a debate rages: Did Elvis prefer his banana mashed or sliced? Several cookbooks say say mashed banana was the house preference at Graceland. Yet Elvis Presley's Memphis, a restaurant created by the good folks at Graceland, serves the sandwich with sliced bananas. They say that's how Elvis liked it, and, frankly, they should know.

For the record, Sun Studio Cafe also serves the sandwich with the bananas sliced - despite the fact that general manager Mark Bell believes Elvis preferred his bananas mashed. Today customers seem to prefer the sliced version, he said. Decide for yourself."

Two points:

1) I trust my wife.

2) You only live once.

And I would add that Southerners really know how to eat. Not to mention they seem like such a pleasant bunch.

Finally, you folks at Kopp's...next August 16th, how about peanut butter and banana custard on your marquee?






As I write and post this Culinary no-no, fans are gathered outside Graceland, paying tribute at the annual Candlelight vigil on the eve of the 33rd anniversary of Elvis' death. Last year's vigil was described by the Memphis Commercial Appeal:

"The line to walk, candle in hand, to the grave of Elvis started forming 48 hours prior to the event."

God bless you, Elvis. Thanks for all you left for us to enjoy.

Culinary no-no #179 is about to leave the building. Thank you, and goodnight.



This site uses Facebook comments to make it easier for you to contribute. If you see a comment you would like to flag for spam or abuse, click the "x" in the upper right of it. By posting, you agree to our Terms of Use.