Kevin Fischer is a veteran broadcaster, the recipient of over 150 major journalism awards from the Milwaukee Press Club, the Wisconsin Associated Press, the Northwest Broadcast News Association, the Wisconsin Bar Association, and others. He has been seen and heard on Milwaukee TV and radio stations for over three decades. A longtime aide to state Senate Republicans in the Wisconsin Legislature, Kevin can be seen offering his views on the news on the public affairs program, "InterCHANGE," on Milwaukee Public Television Channel 10, and heard filling in on Newstalk 1130 WISN. He lives with his wife, Jennifer, and their lovely young daughter, Kyla Audrey, in Franklin.

The Barking Lot is a regular weekly feature of this just in…Written by my lovely wife, Jennifer and me. It opens with the weekend dog walking forecast followed by the main blog from dog lover, Jennifer. Then it's DOGS IN THE NEWS and our close. Enjoy!


THE WEEKEND DOG-WALKING FORECAST: We grade the weather outlook for taking your pet outdoors.

TODAY: Isolated thunderstorms. High of 88. "B"

SUNDAY: Mostly sunny. High of 81. "A"

Here's my lovely wife, Jennifer with this week's main blog:


Madras Riail!

That's a rough Irish translation for "Dogs Rule!" And they do, at Irish Fest. The Celtic Canines area at Irish Fest is, of course, my very favorite.

Oh I do love those curly-haired little girls dancing their hearts out on stage. Corned beef sandwiches? Bring 'em on! There is one particular jeweler we always stop at and more often than not, I end up with a new Claddagh "bauble." And then there's the Tipperary Tea Room… About five years ago, Kevin and I had their Irish Mist torte. We fell in love with the moist Irish Mist liqueur-soaked cake and heavenly butter icing so much that we inquired who actually made the cake. Turns out it is made exclusively for Irish Fest by Suzy's Creamcheese Cakes. It also turns out they are willing to make it for your wedding, if you ask nicely!

But this blog isn't about dancers, sandwiches, jewelry or cake. It is about D-O-G-S. Sure, GermanFest has their Dachshund races and they are fantastic. But while GermanFest highlights only ONE breed, IrishFest showcases MANY breeds. Trust me, I stop at every one of them, pet at least one of each breed, and then beg Kevin to get me a Soft Coated Wheaton terrier. We've come home with many souvenirs over the years and have yet to have it be a puppy.

As I tour the area wearing my "Dogs of Ireland" T-shirt (no lie!) patting and petting and swooning, I also enjoy talking to the proud owners. I strongly encourage you to learn about these magnificent breeds from the people that know them best. The dogs are all so different from one another. But the common theme is "adorable." For example:

The silky chestnut strands of the Irish Setter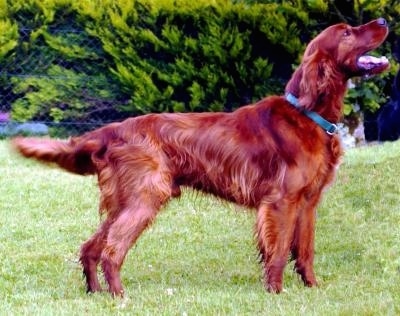 glisten in the August sun.

The wiry-looking coat of the Irish Wolfhound








is surprisingly fun to pet, and you can't help but compare their size to a small pony. The energetic Irish Terriers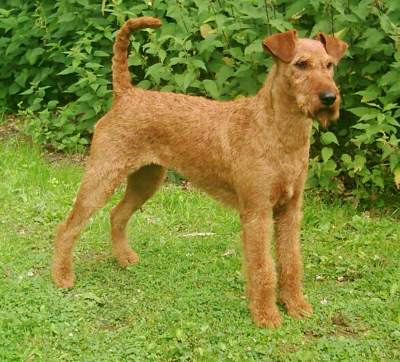 are always fun. Watching their antics makes me smile. They know they are the stars, and that the people in the area are there for THEM. Other "Dogs of Ireland" include the Kerry Blue Terrier,




and the Irish Water Spaniel.







Of course, I have mentioned several times already that my heart belongs to the breed of Soft Coated Wheaton Terriers.







As their name perfectly describes, these precious dogs are like petting a cotton ball. Their curly coats are amazingly soft and springy. Once you start giving one of these pooches a rub-down, you won't want to stop any more than he/she wants you to! We are lucky enough to live a few houses down from Mickey, a darling Wheaton who likes me, but is IN LOVE with Kevin. One time, we were out taking to Mickey and George, her owner. I was petting Mickey, and then happened to stand up and give Kevin a hug. Mickey sprang up from the ground and came right over to me to break up the sign of affection! Yes, I do believe she was jealous.

If you happen to see Kevin and me in the Celtic Canines area next weekend, please stop and say hello. Just don't interrupt me when I'm talking to a Soft Coated Wheaton breeder! Enjoy your day at Irish Fest!
---Jennifer Fischer

Thanks, Jennifer. Time now for DOGS IN THE NEWS, canines that made headlines the past week.


My question is, will the officer responsible get off?


No dogs allowed at these graves.


The pros and cons of dog parks.


A Pomeranian breaks a stereotype.


This is National Assistance Dog Week.


Female inmates help disabled vets.


Your name is Gary Guy Matthews and that's what it will stay.


Dutchess gives birth in a strange place.


Bijou hangs in there, with some help.


Dog walking helps dogs, but harms......birds?


What to avoid (10 of them) in a vet's waiting room.


$50 BILLION.


And that's it for this week. Thanks for stopping by the Barking Lot. We close with our closing video. It's a Barking Lot UPDATE about Gina.




This site uses Facebook comments to make it easier for you to contribute. If you see a comment you would like to flag for spam or abuse, click the "x" in the upper right of it. By posting, you agree to our Terms of Use.