Kevin Fischer is a veteran broadcaster, the recipient of over 150 major journalism awards from the Milwaukee Press Club, the Wisconsin Associated Press, the Northwest Broadcast News Association, the Wisconsin Bar Association, and others. He has been seen and heard on Milwaukee TV and radio stations for over three decades. A longtime aide to state Senate Republicans in the Wisconsin Legislature, Kevin can be seen offering his views on the news on the public affairs program, "InterCHANGE," on Milwaukee Public Television Channel 10, and heard filling in on Newstalk 1130 WISN. He lives with his wife, Jennifer, and their lovely young daughter, Kyla Audrey, in Franklin.

The summer is just about over. You've got your back to school sales, footballs are flying, and the days are sadly getting shorter.

But we still have our weekends!

Our State Fair is a great state fair.

This week's ethnic festival on the lakefront is Arab World Festival.

Summer Sizzle time in the Third Ward Saturday.

And no, you're not in Kansas. You're at River Flicks at Pere Marquette Park.

In between all your running around this weekend, please check out our regular This Just In weekend features beginning tonight with our weekly Friday night smooth music segment.

SSSSSSSSSSSSSSSSSSSSSSSSSSSSS!!!!

Saturday morning, wake up to our weekly dog blog, The Barking Lot.





I think I've seen that woman before.

Also, the strangest DOGS IN THE NEWS story since we've started doing this crazy blog.

Then it's Weekends, our weekly week in review including this atta boy....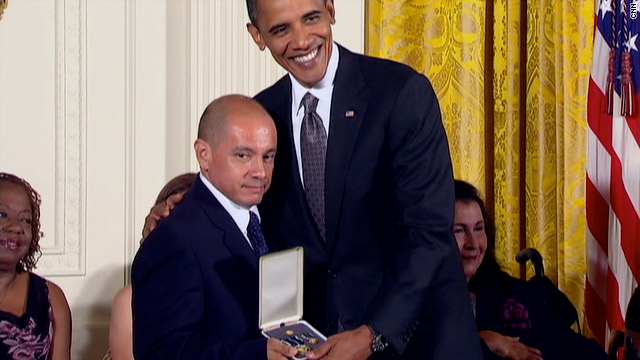 Recommended Reading now comes your way Sunday morning.

Also on Sunday, My Most Popular Blogs, Culinary no-no, and Photos of the Week.

Here is a photo that did NOT make the final cut.....





A supporter in costume holds a sign in support of gay marriage during a rally in Palm Springs celebrating a U.S. District judge's ruling that Proposition 8, the same-sex marriage ban approved by voters in 2008 is unconstitutional August 4, 2010. (AP photo/Wade Byars, The Desert Sun)


Have a great weekend!





This site uses Facebook comments to make it easier for you to contribute. If you see a comment you would like to flag for spam or abuse, click the "x" in the upper right of it. By posting, you agree to our Terms of Use.