Kevin Fischer is a veteran broadcaster, the recipient of over 150 major journalism awards from the Milwaukee Press Club, the Wisconsin Associated Press, the Northwest Broadcast News Association, the Wisconsin Bar Association, and others. He has been seen and heard on Milwaukee TV and radio stations for over three decades. A longtime aide to state Senate Republicans in the Wisconsin Legislature, Kevin can be seen offering his views on the news on the public affairs program, "InterCHANGE," on Milwaukee Public Television Channel 10, and heard filling in on Newstalk 1130 WISN. He lives with his wife, Jennifer, and their lovely young daughter, Kyla Audrey, in Franklin.

It's Friday night. Time to unwind with our regular Friday night feature on This Just In.

The weekend has finally arrived.

The sun has set.

The evening sky has erupted.

Let's put controversy and provocative blogs aside for the rest of this work week and smooth our way into Saturday and Sunday.

Tonight....we sizzle.

The weather folks promise the return of hot, humid conditions is just around the corner. That's cool. After all, it's August.

Let's get right into it this week with an appropriate track from Fattburger. The San Diego-based band blends funk, blues and Latin jazz in what is often called, "The San Diego Sound."

It's an impressive group. Various band members have backed up Barry White, Stevie Wonder, Cannonball Adderly, Herbie Mann, Dave Valentin, Clark Terry, Eddie Harris, Freddie Hubbard, Al Di Miola and Luis Miguel.

Drummer Kevin Koch hails from Manitowoc, Wisconsin.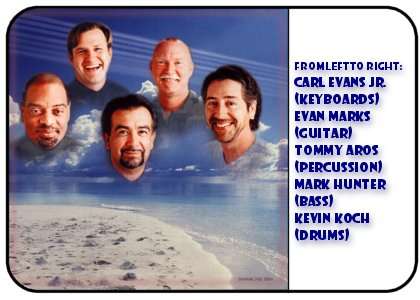 From 2003, listen to Fattburger perform, "Sizzlin.




Hot weather makes me think of tropical places and their distinctive musical styles. Our next artist captures that warm sprit and feeling very well.

She sings and also plays the sax. Her debut album, "Tequila Moon" helped her be named Radio and Records "Debut Artist of The Year." The title track was honored as contemporary jazz song of the year by R&R and Billboard.

Born in Portland and raised in Hemet, California, she started playing piano at the age of four. Her home often hosted festive parties featuring Latin music. Growing up, she was influenced by Cannonball Adderley and John Coltrane. After graduation from USC with a degree in jazz studies, she recorded sessions with Michael Buble and toured with the Temptations and Jessica Simpson.

In 2004, this artist joined the cast of the off-Broadway show Blast! During her travels with the show, she decided she wanted to do more on her own. Friend and drummer Jamie Tate got her to see his gig with saxophonist Mindi Abair at the Newport Jazz Festival. The concert inspired her to record her own CD.

Her name is Jessy J.



Next up, a performer with a long and impressive resume.

Master guitarist Earl Klugh has been recording for more than three decades, has 22 Top Ten Billboard Jazz Chart albums (four of them No. 1), and 11 Grammy nominations.
Klugh studied piano at the age of 3, guitar when he was 10. As a youngster, Klugh was in awe at the sight of Chet Atkins play on Perry Como's TV show.

"He was the first person I saw playing the melody on guitar, without singing. I had never heard the guitar being played like that," says Klugh.

Like all successful musicians, Klugh had his many influences: George Benson, his first mentor, Bill Evans, Chick Corea, Wes Montgomery, Sergio Mendes, Burt Bacharach and the Beatles.
He has been seen on The Tonight Show, Late Night featuring David Letterman, The Today Show, and Good Morning America.

This selection will have you dreaming of tropical breezes and pina coladas.






That's it for tonight.

Goodnight.

Sleep well.

Have an AC weekend.

We close with a group that I've featured before on This Just In…

Their cover of this oldie certainly fits tonight's en fuego theme.




This site uses Facebook comments to make it easier for you to contribute. If you see a comment you would like to flag for spam or abuse, click the "x" in the upper right of it. By posting, you agree to our Terms of Use.